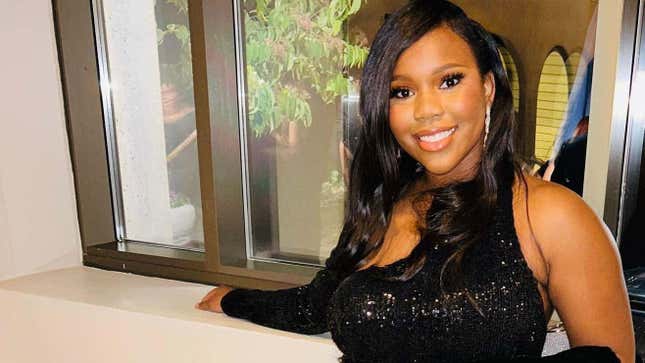 Carlee Russell safely returned to her family on Saturday after going missing for 49 hours following a 911 call she made, in which she reported a toddler on the side of the highway. On Wednesday, during a press conference, Hoover, Alabama, police said they've been unable to verify most of the story about her disappearance, revealed that she recently searched for one-way bus tickets, and said that there have still been no reports of a missing child.
On July 13, Russell called 911 to report a diaper-clad toddler on the side of the interstate, later telling police she followed the toddler for 600 yards. ("To think that a toddler, barefoot, that could be 3 or 4 years old, is going to travel six football fields without getting in the roadway, without crying, just moving on, it's very hard for me to understand," Police Chief Nick Derzis said.)

When police arrived at the location minutes after the 911 call, Russell was gone. Her wig and phone were in the grass nearby and her purse was in the front seat of her car. A relative later said that Russell had called her, asked a question to the presumed toddler, and then screamed before she stopped talking.

After about 49 hours, Russell's family called the police to say she'd returned home. She was taken to a nearby hospital where police interviewed her and where she was treated, and then released. Police say they have not yet conducted a follow-up interview with her.
Russell initially told police that while helping the "the little boy" mentioned in her 911 call (which you can listen to in its entirety), a man with "orange hair with a big bald spot" came out of the trees alongside the interstate. He picked her up and she screamed. She said he made her go over a fence and forced her into a car. "The next thing she remembers is being in the trailer of an 18-wheeler," Derzis said. Russell told police there was a woman there and a baby crying.
Russell said she fled on foot but was recaptured and put in a car. She was blindfolded, but not bound. Russell told police was taken to a house, stripped nude, and then photographed. "She does not remember them having any physical or sexual contact with her," Derzis said. "She stated that the next day, she woke up and was fed cheese crackers by the female" and that the woman "played with her hair."
Police said Russell cannot remember anything else except that she was put back in a vehicle and escaped on the west side of Hoover, a suburb of Birmingham. "She told detectives that she ran through lots of woods until she came out near her residence," the chief said. "During this interview, detectives noted Carlee had a small injury to her lip and she claimed her head was hurting."
Her shirt was torn, and police also found $107 in cash in her right sock.
Police then worked with the U.S. Secret Service to analyze Russell's cell phone. They said they found internet searches the police believe to be "relevant," including, "Do you have to pay for an amber alert," "How to take money from register without getting caught," "Birmingham bus station," searches for one-way bus tickets to Nashville, and about the 2008 movie Taken. There were a number of searches that police say "shed some light on her mindset" but they won't reveal to protect her privacy.
On July 13, before the 911 call, surveillance footage apparently showed Russell taking a bathrobe, a roll of toilet paper, and "other items" from her workplace. She also went to Target to buy snacks, but those were not found with her other belongings at the scene of the disappearance.
"I do think it's highly unusual the day that someone gets kidnapped that seven hours before that, they were searching the internet, Googling the movie Taken about an abduction,'' Derzis said. "I find that really strange." Meanwhile, her boyfriend, who previously said she was "literally fighting for her life," has deleted all public traces of Russell from his social media.
Police said no one has reported a child missing, nor were there any reports of a toddler walking along that stretch of interstate besides the report made by Russell that evening. Derzis said that "it has not entered my mind" to charge Russell for the alleged workplace theft or the potentially false 911 call as they continue to investigate her missing 49 hours.
"There are many questions left to be answered, but only Carlee can answer them," Derzis said.