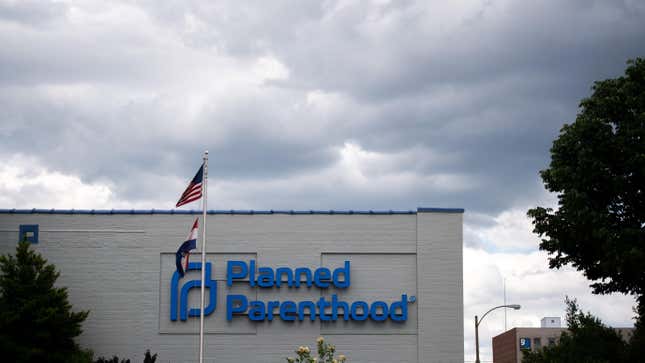 The sole abortion clinic in California's Imperial Valley County—right along the border with Arizona—burned down in a fire on Tuesday. The destruction of the clinic deals a gutting blow to abortion access for residents of both Southern California, and Arizonans who have to seek care out of state, due to their state's 15-week ban.

The three-alarm fire at the El Centro Planned Parenthood clinic, which officials say began at 2:01 a.m., took fire crews about three hours to extinguish. KPBS reported that the fire required a "total of nine units responded to the fire including in addition to 20 mutual aid firefighters." No clinic staff members or patients were present during the fire and no civilians were hurt.
In a statement shared on Tuesday, Darrah DiGiorgio Johnson, the president and CEO of Planned Parenthood of the Pacific Southwest, said the organization is "devastated" by the loss of the clinic. She said that "the cause of the fire" remains unknown and Planned Parenthood is "working with officials to complete a full investigation."
"This health center has always been a beacon for access to quality and compassionate sexual and reproductive health in a medically underserved area, and served as a safe haven for people traveling from other states to access the vital care they needed and couldn't receive elsewhere," DiGiorgio continued. "The impact of this loss will be felt throughout the community and beyond."
Imperial Valley, which has a majority Latinx population, is the second poorest county in California and has among the highest teen birth rates in the state. Now, residents will have to travel even farther to access essential family planning services that could be crucial to people's economic well-being. Plus, the clinic fire isn't the first local health care loss this year: In January, the El Centro Regional Medical Center shuttered its maternity ward, sending patients to a hospital about 15 miles away for care.
"It's a drastically medically underserved area already, so our services really were essential to the community here," Sandra Duran, director of communications for Planned Parenthood of the Pacific Southwest, told The Intercept. According to Duran, the clinic served "patients coming to this health center from Arizona, from neighboring states, and it really became such a beacon of hope for so many."
Eleanor Grano, community outreach coordinator at the Jane's Due Process fund for reproductive health care, shared on Twitter that she'd grown up in El Centro and said the Planned Parenthood clinic "has been serving so many people driving from [Arizona]," especially since last year, when the Supreme Court overturned Roe v. Wade and Arizona's ban took effect.
The cause of the fire hasn't been determined yet, but abortion clinics are all too often targeted by anti-abortion protesters via arson attacks and other acts of vandalism. This has always been the case, but the consequences are especially devastating in the post-Roe landscape, where clinics that remain open are spread exponentially thinner and the loss of a single clinic can force abortion seekers to travel hundreds more miles for care.
An Illinois clinic that's been under construction for the past year—which would serve patients from Indiana and other states—was recently forced to delay its opening after being repeatedly vandalized by anti-abortion activists. A Wisconsin clinic, operated by a woman who worked for Dr. George Tiller (who was killed by anti-abortion activists in 2009) was burnt down last year by a 22-year-old woman who expressed anti-abortion views. That location would have operated as the state's only full-service abortion clinic.
It's a fraught time for Planned Parenthood across the board right now: The state of Texas is currently trying to bankrupt the organization via a lawsuit to force it to pay back millions in Medicaid reimbursements. The suit, which is being decided by a Trump-appointed judge who tried to ban the abortion pill, could result in more than $1.8 billion in fines and penalties.