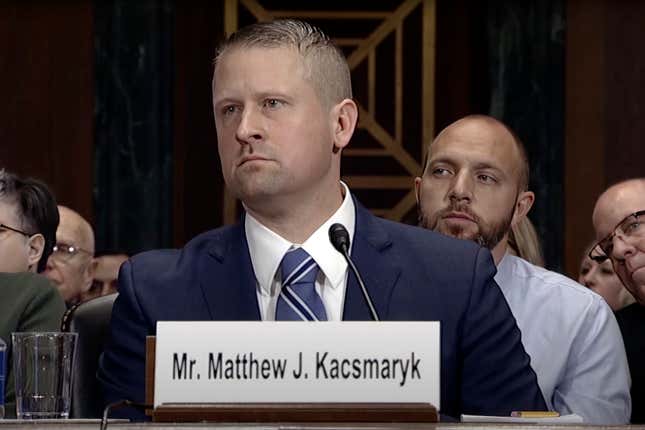 The federal judge who tried to ban the abortion pill will decide the fate of an absurd lawsuit against Planned Parenthood that could end up with the organization having to pay billions, bankrupting its Texas affiliates and possibly the entire organization.
Pre-Roe Activist Made Abortion Devices from Aquarium Supplies
The state of Texas and an anonymous plaintiff that goes by Alex Doe are suing the national Planned Parenthood and three affiliates in Texas and Louisiana, demanding that they repay at least $17 million in Medicaid funds. The case could also result in more than $1.8 billion in fines and penalties. They filed their lawsuit in Amarillo, Texas, where Planned Parenthood doesn't have any clinics, but is where Judge Matthew Kacsmaryk, an anti-abortion who judge previously worked as a lawyer at a right-wing Christian legal organization, presides. Kacsmaryk held a hearing for the case on Tuesday.
In 2016, Texas sought to ban Planned Parenthood from accepting Medicaid for non-abortion health services, though that change didn't actually take effect until March 2021. The plaintiffs falsely claim that Planned Parenthood clinics defrauded the state Medicaid system by getting reimbursed for providing health services to patients—including birth control, cancer screenings, and STI testing and treatment—between 2017 and 2021, even though two federal courts said the clinics could accept Medicaid during that time.
Texas sent Medicaid payments to Planned Parenthood without incident during that period. But "Alex Doe" sued in 2021 and, in January 2022, now-suspended Attorney General Ken Paxton (R) joined the lawsuit against Planned Parenthood Federation of America and three affiliates that operate in Texas: Planned Parenthood of Greater Texas, Planned Parenthood South Texas, and Planned Parenthood Gulf Coast, which has clinics in both Texas and Louisiana. (Paxton is currently awaiting an impeachment trial.) Though the state has sued the reproductive health organization many, many times, it's believed this is the first time Texas has sued it for money. Paxton brought the suit under the federal False Claims Act, which allows fines of up to $11,000 for every alleged improper Medicaid payment. (The case is called United States ex. rel. Doe v. Planned Parenthood.)
Susan Manning, the general counsel for Planned Parenthood Federation of America, said in a statement after arguments on Tuesday that the case is baseless and that their health centers follow the law. "The plaintiffs' only goal in this case is to achieve their decades-long goal of shutting down Planned Parenthood to advance a political agenda," she said.
The CEOs of the three affiliates said in a statement that more than 100,000 Texans rely on their clinics every year for affordable health care—an option that would disappear if they are forced to close: "It is critical that we not lose sight of who will be harmed if Planned Parenthood is ordered to pay the outrageous penalties...: our communities and our patients, especially people with low incomes." Manning added in a press call on Tuesday that, for many patients of reproductive age in Texas, Planned Parenthood providers are their only source of health care.
"State and federal courts explicitly permitted Planned Parenthood health centers to provide care through the Medicaid program during the period in question, as well as a grace period provided to Planned Parenthood so that we could continue to care for our patients," Manning said on the call. "Planned Parenthood was paid for providing those services to patients with Medicaid coverage, just like any other health care provider, and just as the courts required. That is not fraud—it is providing healthcare and it's following the law."
Jacob Elberg, a former federal prosecutor who specialized in healthcare fraud, told the Associated Press that Texas' argument is weak. Elberg, who is now faculty director at Seton Hall Law School's Center for Health & Pharmaceutical Law, said it was "hard to understand" how Planned Parenthood could have been knowingly filing false claims when when it was actively suing to stay in the Medicaid program, and Texas was still reimbursing the organization.
Kacsmaryk will decide if the case will go to trial or get dismissed; Manning told reporters he didn't give a timeline for his decision but she said it was a "meritless case" that the judge shouldn't let proceed any further. Like the abortion pill case, any appeals will go first to the extremely conservative Fifth Circuit, then on to the Supreme Court. (Yes, we are still waiting for the Fifth Circuit to issue its decision in response to the Food and Drug Administration's appeal of the mifepristone case.)
Similar to the abortion pill case, this lawsuit is entirely without merit and seems designed waste the time and money of those that support abortion access, and to test the fences of the federal court system that is now littered with Trump-appointed judges. It seems unlikely that the Supreme Court would go for Paxton and Doe's argument, but the problem with this court is that you can never be too sure.