I clicked on this bit of gossip about sporting man Aaron Rodgers's "drastic changes" in the wake of his breakup with Olivia Munn expecting it to be a little more salacious than what I found, which was simply evidence of a man trying to live his goddamn life.
Ana Gasteyer Satirizes the Girl Boss in 'American Auto'
Since the football season's over and he and Olivia are done, he's been hanging around L.A., and indulging in what sounds like some Aaron-time. According to Us Weekly's petulant-sounding source, Rodgers has been doing a bunch stuff he didn't used to do before: getting facials in Beverly Hills, hiring Ryan Gosling's stylist to dress him and in what might be the craziest thing of all, working out with someone other than his teammates.
"He used to work out in Calabasas with his teammates during the offseason, but this offseason he's chosen to work out primarily with Nick Jonas in West Hollywood," the pal added.

Along with Jonas, the Pro Bowler has been hanging with actor pals Ryan Rottman and Eddie Mills, instead of his usual football crew. "One teammate said, 'The only time we've seen Aaron this offseason is on TMZ leaving Catch,'" the source tells Us of cameras catching Rodgers at the L.A. hot spot.
K. Not sure what you're implying there, but let's just let this man live his life.
His family sounds like a freaking nightmare, Olivia Munn is amazing and just broke up with him a week ago, he's been dodging rumors that he's gay for a minute and honestly, and the man is trying to get his shit together. Or the rumors are true and Munn really was his beard. Or I don't know! I'm not Aaron Rodgers.
G/O Media may get a commission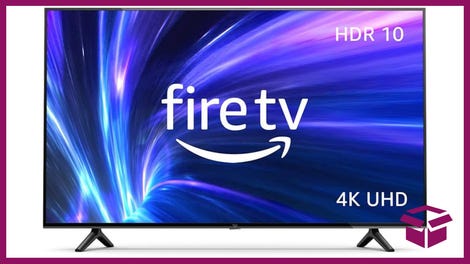 42% Off
Amazon Fire TV 50" 4K Smart TV
If I may — let Aaron Rodgers live. Thank you.
---
Go away, don't tell me, I don't want to know!!
[E! News]
---
In support of Sexual Assault Awareness Month, Abigail Breslin, who will play Baby in the Dirty Dancing remake we certainly don't need, opened up about her own sexual assault in an Instagram post on Tuesday.

What's nice about this post is that aside from the jerks that pop up into celebrity Instagram comments only to be mean, the majority of the comments are supportive and kind.
---