Let me clarify this headline: "Aaron Rodgers's family" specifically refers to everyone but Aaron Rodgers, because Aaron Rodgers is apparently fine, and that is probably because he chose former star of The Newsroom Olivia Munn "over his family," who really seem like a handful.

The rumored tensions between Aaron/Olivia and the rest of Rodgerses (blech, what a word) have been written about for a while now (Jezebel Deputy Editor Kate Dries explored the borderline nonexistent relationship between Aaron, a successful Green Bay Packer, and his younger brother Jordan, an ex-pro slacker and current JoJo Fletcher backer, last year), but it wasn't until a recent New York Times profile of the Rodgerses (ahhh again) that things hit a fever pitch (wrong sport).
When speaking about his son's relationship with a Hollywood star, Aaron's father Ed was tight-lipped, but spoke volumes. Writes The Times:
"One in the news is enough for us," [Ed] said. He spoke at his office on Monday morning during a break between patients, looking down at his hands, clasping and unclasping them.

"Fame can change things," he added.
Yeeeeikes! Well, gossip outlets like Us Weekly and The New York Post have taken these "revelations" and dashed towards the end zone with them. (Look at me! Sport metaphors!) The Rodgerses apparently miss their golden boy and think he became distant not because he's one of the most famous quarterbacks in the country who's busy with things like training and endorsement deals, but because his girlfriend is, I don't know, a bitch? Classic.
Writes Us Weekly:
"Aaron is the one that has pulled away from the family, not the reverse," a source exclusively tells Us. "When he got together with Olivia Munn, his family told him they didn't trust her and thought she wasn't with him for the right reasons. That made him furious, and he ended up choosing Olivia over his family."

[...]

"[They] don't want this public," the source told Us, confirming that the two-year rift is "over the actress."
G/O Media may get a commission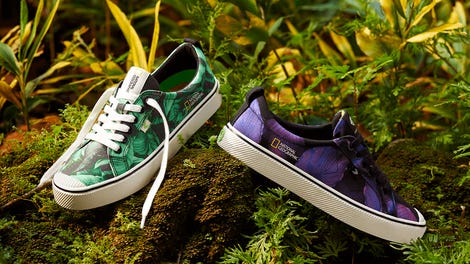 New New New
Cariuma + National Geographic
Combined with the long-running rumors (some even published by Sports Illustrated) that Aaron is gay and Munn is his beard, I don't know what to believe, but I'm going to assume it's something resembling this: Aaron is a shy man who isn't a huge fan of the spotlight, his younger brother is HUNGRY for it and that makes him uncomfortable and hesitant to strengthen their relationship, and Munn—whether romantic girlfriend or closet-strengthening beard/best friend/roommate—is just a cool lady who makes him forget his mess of a family. That sounds right.
---
Kristin Cavallari recently posted this photo of herself and her husband, Jay Cutler, on vacation. They look fine:

Some commenters made fun of Cutler's appearance, saying (per Us Weekly) that he looked like a "chubby lesbian." The next day, Cavallari posted this:
Us Weekly called her reference to Cutler looking "like a 300lb lesbian" some kind of clapback to the haters, but I think it was just Cavallari saying she thought he looked like a 300lb lesbian? This doesn't seem like a response to haters, this seems like a shitty joke by someone who thinks it's bad and funny when their husband looks like a "300lb lesbian."
What a dumb and unnecessarily forgiving spin. Also, Kristin? Why are you still using words like "gusband"?
---
This headline construction will always make me shiver.

---