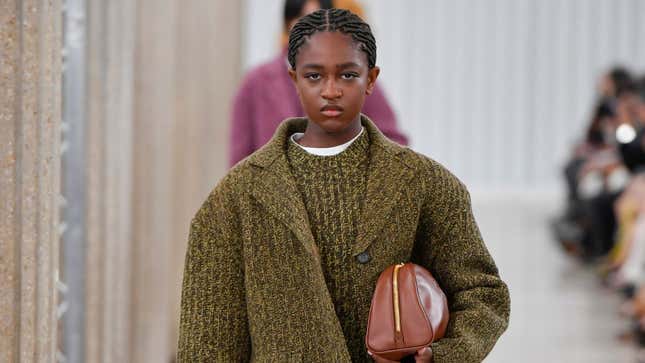 Zaya Wade is following in the footsteps of many a cool teen nepo baby before her: She's now a runway model. She made her debut in Miu Miu's show on Tuesday at Paris Fashion Week, sporting an oversized brown tweed blazer and dress that were very chic, but also looked like something an Upper East Side divorcee might wear to her lawyer's office.

Dwyane Wade and Gabrielle Union, ever the proud parents, were sitting in the front row. Dwyane posted a video to his Instagram feed of Zaya walking down the runway—as well as shots of him and Union looking unbearably cool in sunglasses and all-black outfits—captioned, "She's arrived."
Thomas Christos, a stylist who regularly works with the family, also posted a video from the front row, saying he had "tears" in his eyes as she walked down the runway. "Thank you @zayawade for showing me what it means to believe in yourself," he added.
Though Tuesday marked the 15-year-old's first time going down the runway, Zaya attended Miu Miu's Paris show last year, wearing a cute plaid skirt and denim jacket combo—which, to be honest, felt much more age appropriate for the teenager than the matronly getup she wore on Tuesday.
Dwyane has been extremely supportive of his daughter's transition, which his ex-wife (Zaya's mother) has fought in court, accusing the NBA legend last year of being "positioned to profit" from his minor daughter's name and gender change. Dwyane shot back, calling her claims "libelous" and "nonsensical." Late last month, a Los Angeles judge officially changed her name to Zaya Malachi Airamis Wade, which allows her gender identity to be reflected on legal documents.
In February, Dwyane and Union were given the President's Award at the NAACP Image Awards, and they dedicated their speech to Zaya.
"To say that your village is proud of you is an understatement," Dwyane said, going on to add that his role as her father "is to be a facilitator to your hopes, your wishes, your dreams."
And Zaya's runway debut certainly looked like a teenage girl's wish come true.