Welcome to Would U?, an academic forum in which I share my gross crush of the week and ask if you, too, would bang that person.
Today, the GOP lost its third most irritable presidential candidate, Kentucky Senator and proud libertarian Rand Paul, who received less than 5 percent of the vote in Iowa and was polling in ninth place for the upcoming New Hampshire primaries.
I, personally, am as devastated as a person can be about the suspension of a campaign they don't support, which is to say—somewhat! Who else on the Republican stage has curly hair, dimples, an ophthalmology license, and okay ideas about the criminal justice system? Who else would let me watch a livestream of a full day of campaigning, opening his arms to the Internet as he grimaced and stomped around in a turtleneck vest and listened to Duffy?
And who else has given the campaign trail more iconic fashion moments—demonstrating, with the brute confidence of a longtime dad, that you can tuck just about anything into a good pair of jeans?
G/O Media may get a commission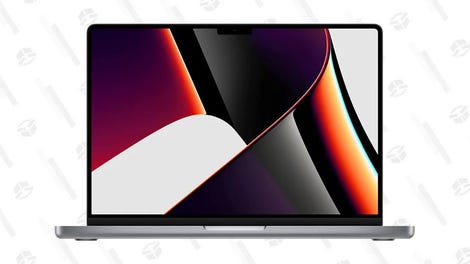 Save $300
2021 14" 1TB MacBook Pro
Fig. A:
Fig. B:
Fig. C:
Fig. D:
Now that he's no longer in the running for the Republican nomination, Sen. Paul is focusing on his reelection for Senate, which he will probably win, although it would be cool if he didn't (Jim Gray, the first openly gay mayor of Lexington, Kentucky, is running against him).
From Rand's statement on ending his bid:

"It's been an incredible honor to run a principled campaign for the White House. Today, I will end where I began, ready and willing to fight for the cause of Liberty.

Across the country thousands upon thousands of young people flocked to our message of limited government, privacy, criminal justice reform and a reasonable foreign policy. Brushfires of Liberty were ignited, and those will carry on, as will I.

Although, today I will suspend my campaign for President, the fight is far from over. I will continue to carry the torch for Liberty in the United States Senate and I look forward to earning the privilege to represent the people of Kentucky for another term."
I guess only one question remains: Does Rand Paul ignite a brushfire of Liberty in you? Let's see what staffers had to say:
Joanna Rothkopf: I Would Rand Paul.
Emma Carmichael: I would not.
Julianne Escobedo Shepherd: Ew no. Nein.
Kelly Faircloth: Not if he was the last man on EARTH.
Anna Merlan: No. I bet he lightly gels his chest hair.
Jia Tolentino: I would :(
Joanna: I think he is compact and sturdy.
Ashley Feinberg: I would FWIW. He is the most attractive GOP candidate.
Ashley: Especially because it might facilitate me having a conversation with Ron Paul, which is a dream of mine.
Anna: I mean if I had to [have sex with] one of the GOP candidates, certainly he's an acceptable choice.
Kelly: If I had to bone one of the GOP candidates I would defenestrate myself.
Anna: He's like a Keebler elf who loves talking about taxation.
Emma: He looks like such a drip.
Jia: Would U: Any Given Libertarian
Joanna: I wouldn't any other Libertarian.
Ashley: I mean if it's a choice between him and this...
Kelly: I would renounce the world and retire to a convent.
Kate Dries: Rand is a loser and I avoid fucking losers.
Kate Knibbs: I would not. I would have sex with Rubio, though.
Let's run one last poll for our good friend Rand, shall we?
Last time on Would U?, we asked: Would you have sex with Fashion Santa? 56% answered "Yes, seems like the festive choice," 13% answered "Maybe, if I'd had a lot of eggnog," 11% said "Yes, if he got rid of the beard and Santa paraphernalia, 8% said "No, I hate Fashion Santa," 6% said "Yes, but only on Christmas Eve," and 5% said "No, I'm not a Christian."
---
Contact the author at ellie@jezebel.com.
Images via Associated Press; gif by Bobby Finger.