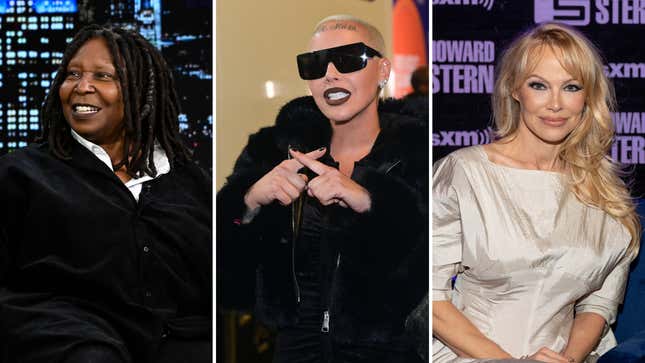 After a series of unpleasant relationships with men (the most recent of whom has now publicly moved on with Cher), Amber Rose would very much like to be alone now. On an appearance on the podcast Sofia with an F, the model and rapper emphatically stated that she's done with sex and dating and all romantic things related to men...forever. "It's worse than ever," Rose said. "They're pretty disgusting out here. They're fucking gross. Like, I wanna be single for the rest of my life."
Lisa Rinna Finally Reveals the Story of Her Iconic Hairstyle
Rose added: "I don't want to share my house or my life with anyone. I don't want anyone around my kids. I don't want to have sex. It's so gross. I don't want it."

Rose has really been through the ringer when it comes to her dating life: Her ex-boyfriend Alexander "AE" Edwards has been publicly cavorting with Cher after cheating on Rose with roughly a dozen people; and her other exes include Wiz Khalifa, 21 Savage, and, uh, Kanye West. "I'm very happy to not be in my bed with anyone," Rose said. Pretty understandable at this point.
But Rose is just the latest in celebrity women who want men to give them some goddamn space—Pamela Anderson says she's opting out of dating right now, too. "I live a more romantic life now that I'm alone than I did in relationships," she wrote in her new book, Love, Pamela. "l light my candles, have my music playing. I have my piano. I'm sure it would be lovely if someone else was in my life and wanted the same thing, but I've just never met them. It's usually about catering to them, and there has to be a balance."
Anderson's life sounds positively idyllic.
And of course, we can't forget about one woman who's been beating the "LEAVE 👏 ME 👏 ALONE 👏" drum for years: EGOT winner (and weird Holocaust opinion haver) Whoopi Goldberg, who will only live with her cat at this point. "I'm much happier on my own," she told the New York Times Magazine in 2016. "I can spend as much time with somebody as I want to spend, but I'm not looking to be with somebody forever or live with someone. I don't want somebody in my house."
You heard them, men: Move along.