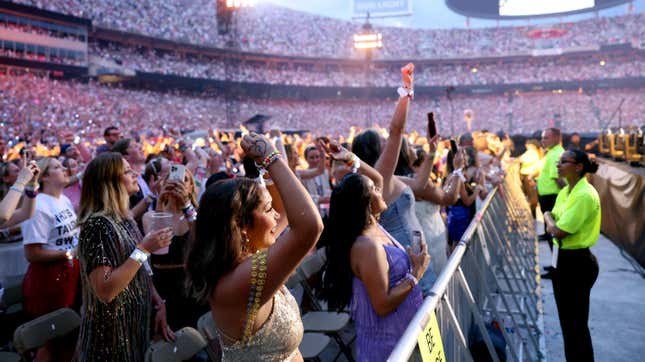 CNN described the effect as "a women-powered boost to the economy." The Wall Street Journal declared Friday that women "own the summer" of 2023. Even the feds have noticed the GDP boost from us...basically spending all our money to enjoy art created by other women.
Uterus Weekly: 15-Week Abortion Bans
"Call it the women's multiplier effect—their spending is a powerful force in the U.S. economy that propelled watershed commercial success for the Barbie film, Beyoncé's 'Renaissance Tour,' and Taylor Swift's 'Eras Tour,' which is likely to become the world's first to bring in $1 billion over more than 100 shows," WSJ reported. "Local economies have reaped the ancillary benefits, noted by the Federal Reserve in July's Beige Book, which touted Swift's tour for boosting the Philadelphia area's hotel industry."
I'd also just like to note here that the looming recession Americans were bracing for magically disappeared in recent months, though I'm not necessarily attributing that to women exchanging friendship bracelets at the Eras Tour. The point is, we got off our asses this summer and opened our wallets and went to the movies and braved Ticketmaster and scream-cried to Taylor Swift's 107 surprise songs, and it did the American economy a big fucking favor. I would just like to ask for one thing in return: abortion.
The very least this country could do, considering what women have done for it and can continue to do for it if given the freedom to not be state-controlled incubators, is restore the 50 years of abortion rights that it took away last year. I don't mean this as a quid pro quo favor—I mean it as a mutually beneficial agreement, seeing as how lack of abortion access has been proven to be economically catastrophic to women and families overall. CNN noted that women's labor force participation rates have just recently "rebounded from the pandemic 'she-cession' and returned to pre-pandemic forms," which in part enabled all the big spending on concert and movie tickets this summer. But you know what will kill women's labor force participation and thus spending power again? Forced birth policies.
In short, I'm sure we can all agree that a healthy and thriving GDP benefits all of us, and it seems that women have more than carried our weight in that regard. Perhaps having the freedom to live our lives the way we want and therefore maintain the ability to inject money into the economy is something even rich, capitalist Republicans should want to get behind.