After 21-year-old Valeriya Lukyanova caught international attention for turning herself into a living Barbie through plastic surgery, it's become all the rage for girls in Odessa to follow suit. As more of these "living dolls" from the city have been gaining notoriety for dramatically altering their appearances, this latest trend is probably the most dangerous, disturbing, and impossible of beauty standards to plague young women.
Anastasiya Shpagina, a 19-year-old who calls herself "Anime," has been working the Ukrainian talk show circuit—often times with Lukyanova—to discuss her extreme look, which she achieves through hours of makeup application. (She wakes up each day at 5 am to allow herself enough time to get ready for work.)
"I don't pay attention to reactions," she said in one interview. "The most important thing for me is my comfort."
To maintain her figure she only eats honeydew, which doesn't seem like a very comfortable lifestyle.
G/O Media may get a commission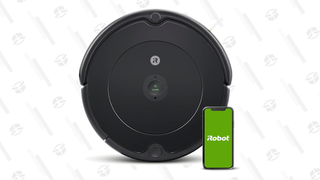 35% Off Black Friday Deal
iRobot Roomba 694 Robot Vacuum
But she says the publicity is good for her business—she's a hairdresser and makeup artist. Lukyanova also uses her appearance as a PR stunt to promote her career. She gives lectures on astral projection for which she charges $80 per person, along with her similarly cosmetically-altered friend Olga Oleynik (who calls herself Dominika). It's ironic that they've spent so much time and money working on their doll-like features and 33.85/18.5/33.85 measurements only to aspire to out-of-body experiences.
Of course, extreme plastic surgery isn't limited to the Ukraine, or even to women. Last week, 20/20 featured a 32-year-old man (a self-described "mad sexy NYC X-Housewife") who has undergone 90 plastic surgery procedures. His entire torso, upper arms, and butt cheeks are all perfectly sculpted with silicone because working out is "so not exciting, not glamourous."
'Barbie Flu' Spreading in Ukraine [Forbes]
Video: This Man Has Had 90 Elective Plastic Surgeries! [Gothamist]