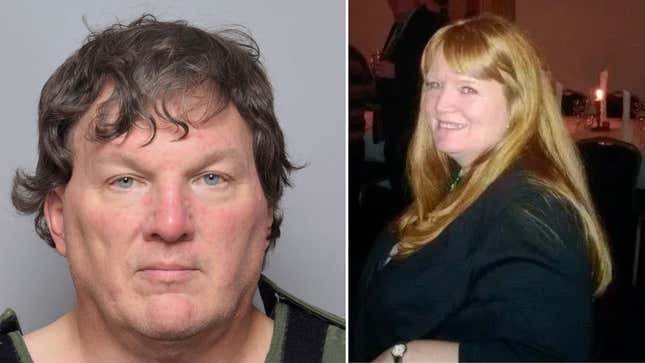 Roughly one week after police apprehended the suspected Gilgo Beach serial killer, Rex Heuermann, in Manhattan, Suffolk County police say Heuermann's wife, Asa Ellerup, offered a pretty resigned response to the news. At the same time that police arrested Heuermann last Friday, they also went to his house in Massapequa Park and informed Ellerup, who was home, about the charges against her husband.

"When we told the wife, she was shocked, she was embarrassed," Suffolk County Police Commissioner Rodney Harrison told Fox 5 on Wednesday. "But there was a point where we showed her certain pictures and she said, 'OK, it is what it is.'"
It's not clear what photos police showed Ellerup that made her resigned to the reality of her marriage to a possible serial killer. Heuermann is alleged to be linked to nearly a dozen killings, mostly of women, that have taken place over the last 26 years. Heuermann was arrested specifically for the murders of three of the four women known as the "Gilgo Four," Melissa Barthelemy, Megan Waterman, and Amber Costello, and is a prime suspect in the murder of the fourth, a woman named Maureen Brainard-Barnes.
Days after Heuermann's Friday arrest, Ellerup filed for divorce on Wednesday, because I suppose being linked to over a dozen killings by forensic evidence and burner phones is quite the dealbreaker that I don't know that any amount of couple's therapy could mend. In Ellerup's own words: "It is what it is."
According to police, Ellerup and the two kids she shares with Heuermann seem to have had no idea about their husband and father's "double life" as an alleged serial killer. "But, time will tell," Harrison told the local news station. "And once again, there are still a lot more questions that need to be done to the family and friends."
A lawyer for Ellerup and her kids has said in a statement that the news about Heuermann "obviously… has been a shocking time for them and a pretty difficult time to comprehend."
"As with any family, it's extremely upsetting and they're totally shocked and caught off guard. The family doesn't want to make any further comment than that," their attorney, Bob Macedonio, told The Sun.
Over the last several days, local media has been peeling back the layers of the Gilgo Beach killings, revealing all kinds of eyebrow-raising details about Heuermann. Reports have shown the suspected killer was once employed by the Trump Organization for an architecture job, while one of Heuermann's former neighbors has said he had to confront the now-suspected killer for creeping on his wife.