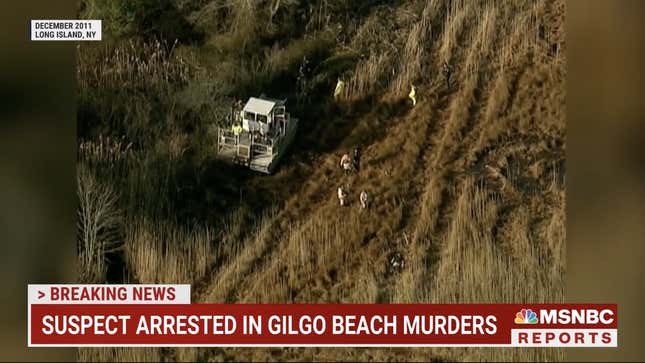 There was a major break in the Gilgo Beach, Long Island, serial killer case on Friday when police arrested a suspect believed to be tied to nearly a dozen killings, mostly of women, that have taken place over the last 26 years.
The suspect, Rex Heuermann, was arrested Friday morning in New York City by Suffolk County police, who are leading the investigation, NBC News reported. He pleaded not guilty to six counts of murder. Heuermann is reportedly a lifelong resident of Massapequa Park, and lived there with his wife and two kids, according to News 12 Long Island.
During a press conference on Friday, Suffolk County District Attorney Ray Tierney said that Heuermann was arrested for the murders of three of the four women known as the "Gilgo Four": Melissa Barthelemy, Megan Waterman, and Amber Costello. He is a prime suspect in the murder of the fourth, Maureen Brainard-Barnes. "We knew the person responsible for these murders would be looking at us," Tierney said, emphasizing that secrecy was imperative during the investigation.
Tierney said that Heuermann's name first came up in conjunction with the murders of the Gilgo Four on March 14, 2022. Through subpoenas and search warrants, the Suffolk County District Attorney's office was able to gather enough information to arrest and charge Heuermann.
According to CNN, Heuermann was connected to the case via extensive and intensive forensic research and data collecting. Investigators searched phone records connected to a burner phone they had tied to the killings, believed to be used by the sex workers to keep their identities and their clients' identities safe. "Investigators eventually landed on Heuermann, who they say matched a witness' physical description, lived close to the Long Island cell site and worked near the New York City cell sites that captured the other calls," CNN reported. It was also revealed that he regularly drove his brother's green pickup truck, which a witness had reportedly seen a person tied to the murders driving.
Cell phone calls are of extreme importance in this case—not only did they eventually lead to Heuermann, but police believe that he used Barthelemy's cell phones to call and taunt her family members, admitting to sexually assaulting and killing her. According to Tierney, the investigative team was able to use "fictitious or fraudulent email addresses and get Google warrants, and from there we got his searches." In a 14 month period, Heuermann had over 200 searches related to the Gilgo Beach killings and investigations. "We knew that one person would be watching and we didn't want to give him any insight into what we were doing," Tierney said.
Heuermann was also "compulsively searching" for pictures of the victims and their relatives and trying to locate their surviving family members. There was also "torture porn and what you would consider depictions of women being abused" in his searches.
Heuermann was also linked to the killings through his Chevrolet Avalanche. A witness in the disappearance of Costello "identified 'a first-generation Chevrolet Avalanche as the vehicle believed to have been driven by her killer,'" according to a bail application filed in Suffolk County court. The investigators, after restarting the decades-old case in 2022, discovered a first-generation Avalanche was at one point registered to Heuermann.
A male hair recovered from burlap used to wrap Waterman's remains was submitted for DNA analysis in July 2020, after which a DNA profile was created. NBC News reported that investigators obtained a DNA sample from one of Heuermann's family members, and later recovered a piece of pizza crust he threw in a Manhattan trash can. On June 12 of this year, a lab determined that the swab from the leftover pizza crust and the hair found on the burlap had the same DNA profile.
The Gilgo Beach serial killer has terrorized Long Island residents for nearly 30 years, and is believed to have targeted sex workers. The case that first brought this to light was that of Shannan Gilbert, a 24-year-old sex worker from Jersey City, New Jersey, who went missing in May 2010 after she was last seen in Oak Beach, a private, gated community just three miles from Gilgo Beach. The investigation into her disappearance unearthed four bodies seven months later along Ocean Parkway, a strip of highway on the south shore of Long Island that is the only road that land vehicles can use to get to the beaches dotting its shoreline.
Those four bodies, discovered in 2011, were all identified as sex workers in their 20s and called the Gilgo Four. As the New York Times reported, shortly after identifying those bodies, police found the remains of a New Jersey woman who also worked as an escort and had been missing for 20 years.
In total, the remains of 11 different victims were found along that strip of highway between 2010 and 2012: nine women, one man, and one toddler. Heuermann has only been charged with the murders of three women, and is believed to be connected with another, but it's unclear who is connected to the other seven victims.
Update July 14 at 5:45 p.m. ET: Updated headline and story with details from the Suffolk County Police Department press conference.