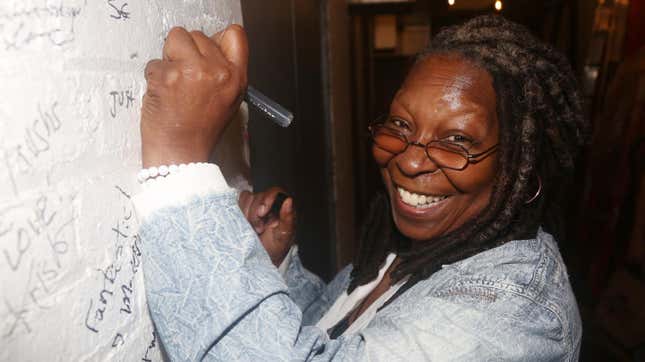 Whoopi Goldberg has said some crazy, conspiracy-riddled, and antisemitic shit in the past. But the topic of The View co-host's sexuality has surfaced again, and in this singular instance, I maintain that we should let this woman live her life however she wants (unless it's, you know, in an antisemitic or writer's strike scabby sort of way.)
On a recent episode of The Best Podcast Ever with Raven and Miranda, hosted by Whoopi's former The View co-host, Raven-Symoné, and her wife, Miranda Pearman-Maday, Raven posed her burning question to Whoopi to settle the matter once and for all.
"Honestly, when I was around you, I loved you so much, like, I just wanted to be up underneath the titty the whole time," the 37-year-old admitted. "But that's also because you just kind of gave me lesbian vibes! Sometimes, Whoops, you give me lesbian vibes, you give me stud vibes."
"Women have been asking me this for as long as I've been around, I am not a lesbian," Whoopi told Raven. "But I know lots of them, and I've played them on television." Goldberg, who is 67, said she has several lesbian friends who she needed to set boundaries with for the same reasons.
"I'll tell them, 'I'm not gonna kiss you, but I'll kiss you over here, I'll do this, but I'm not going to do this'…and they're like, 'OK!'" she said. (I have additional questions about what "this" but "not this" means exactly, but I will give the woman her privacy as promised.)
Pearman-Maday then jumped in to add, jokingly but also probably not, that her wife "wants everybody to be gay."
"I think this is a secret fantasy of Raven's!" she said. "I think she just wants everybody to be gay, and she's just really hoping you'll come out right here, right now."
---