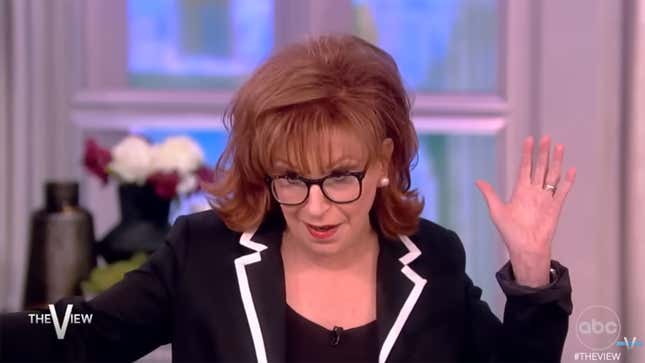 The announcement of the Writers Guild of America strike Monday night meant that the majority of daily talk shows went dark. Network talk shows like The Late Show with Stephen Colbert and Jimmy Kimmel Live! began airing reruns in the absence of their writers, as did the daytime panel The Talk. But The View, she persisted.
Of course, the Grammys Brought Up 'The Slap'
On this week's fresh episodes, the panel referenced the strike multiple times this week. On Tuesday, according to Deadline, moderator Whoopi Goldberg told the audience, "You know how we're always talking about how we're very different than most other shows? Well, as you know, there is a writers strike on and so, we don't have writers, OK? So, you're going to hear how it would be when it's not slicked up." And then on Wednesday's episode: "It is day two of the writers strike, and that means we're still writing things on cards and, hopefully, if we're not sure what's going on, we will ask the amazing [producer] Brian [Teta] over there."
On Thursday's episode, Goldberg attributed to the panel's discussion of the Scandoval Vanderpump Rules controversy to the strike. According to The Wrap, she said, "Another reminder, we don't have any writers, which is why we're kind of forced to talk about Vanderpump Rules, which I'm going to just throw over to Alyssa because I don't care!"
Goldberg wasn't present for Friday's episode, but nonetheless, the panel was up to its old tricks: noting that they were proceeding without writers. Joy Behar, during the Hot Topics segment, said: "Justice Clarence Thomas is in a lot of trouble. He's in hot water. Why, you may ask? The latest reports — here are the facts, these are facts — you know, the writers are on strike so we're just winging it!"
"So you are unfiltered, unplugged and unscripted," said cohost Anna Navarro, crossing herself.
Navarro went on to make the point that, "The Supreme Court needs an ethics code." Behar then interrupted, to which Navarro shot back, "You actually have things written down?"
"No, I have facts," said Behar to audience laughter. "Was I speaking a foreign language before?"
Kind of! I think it's called Scabbish.
Update (May 6, 10:00 am ET): This post was amended to include Goldberg's Vanderpump Rules comments.