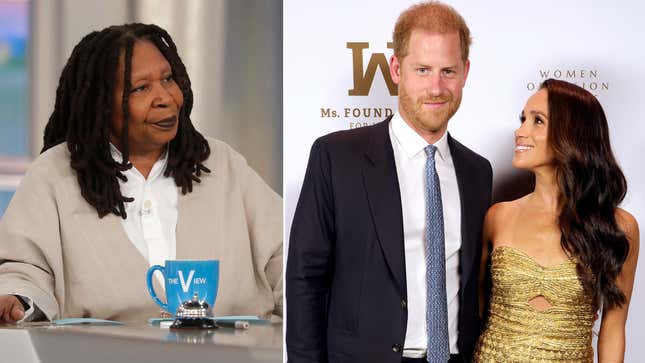 The day after a spokesperson for Prince Harry and Meghan Markle claimed the couple was involved in a "near catastrophic" car chase by paparazzi in New York City on Tuesday night, Whoopi Goldberg expressed a few doubts about their version of events in a panel discussion on The View.

Taylor Lautner Doesn't Even Remember Saying 'Bella! Where the Hell Have You Been Loca?'
"Their spokesperson called it a 'near-catastrophic car chase,'" Goldberg said, adding, "Others said it wasn't bad, but I think people in New York know if it was possible to have car chases in New York, we'd all make it to the theater on time."
"I think their spokesperson referenced something that you generally would reference in Los Angeles. That's where you have chases," Goldberg continued. "That's where you can move at high speeds." The View co-host recognized that Markle and Harry "were dealing with aggressive paparazzi," but she reiterated, "It just doesn't work in New York."
Goldberg's fellow co-host Joy Behar seemed to agree with her: "Sometimes I'm in the city, and I hear an ambulance trying to get through, and I think, 'That person is dead,'" Behar said.
Goldberg and Behar's comments are fairly in line with responses from city officials ranging from New York City Mayor Eric Adams (D) to the NYPD to Harry and Markle's taxi driver from the evening, all of whom seemed to suggest the incident wasn't "near catastrophic" to the extent that the couple has characterized it. "I would find it hard to believe that there was a two-hour high speed chase," Adams told reporters.
The NYPD confirmed in a statement from a spokesperson that it had "assisted the private security team protecting the Duke and Duchess of Sussex" and that "numerous photographers" made the couple's travel through the city "challenging." Still, police said, "The Duke and Duchess of Sussex arrived at their destination and there were no reported collisions, summonses, injuries, or arrests in regard."
Meanwhile, the couple's taxi driver told the Washington Post he wouldn't "call it a chase" and said, "I never felt like I was in danger. It wasn't like a car chase in a movie. They were quiet and seemed scared, but it's New York—it's safe."
But Goldberg and Behar's co-host Sunny Hostin made the important point that whatever the extent to which Markle and Harry's lives were endangered, it's understandable that they would be terrified given his childhood trauma. "No one ever claimed that there was a high-speed chase, and I think when we think about chases, we think about high-speed chases," Hostin said, also pointing out that Harry's mother Princess Diana died in a 1997 car accident that involved paparazzi. "If they felt scared, I will grant them that. … When you look at a situation like this, where his mother died of a catastrophic car chase and he knows that and [Markle] knows that, I wouldn't wanna be in a situation where e-bikes and sedans are sort of following me aggressively around the city."
In the Sussexes' Wednesday statement on the car chase incident, their spokesperson called it "a near catastrophic car chase at the hands of a ring of highly aggressive paparazzi."
"This relentless pursuit, lasting over two hours, resulted in multiple near collisions involving other drivers on the road, pedestrians and two NYPD [New York Police Department] officers," the statement said.
Chris Sanchez, a member of the Sussex security team, told CNN on Wednesday, "I have never seen, experienced anything like this. What we were dealing with was very chaotic. There were about a dozen vehicles: cars, scooters and bicycles." He continued, "The public were in jeopardy at several points. It could have been fatal. They were jumping curbs and red lights. At one point they blocked the limousine and started taking pictures until we were able to get out."
Through all of this, the royal family has remained conspicuously silent.