It's difficult for many of us to survive in this post-Oprah world. She's been relegated to a channel only our grandparents – who were coerced into their extra-super-duper cable package – receive. She's not telling us how to live our lives the way she used to. Since abandoning the common folk to preside over a new kingdom, Oprah left a hole in the chain of power that seemingly thousands have desperately tried to fill. The good thing is that there are so many of people eagerly stepping up to tell women exactly how to live their lives. It has truly never been a better time to be a middle-aged white woman because there are so many middle-aged white women out there to tell you how to do it.
If you like filling your mind with mindless drivel around mid-morning, you'll like The View
The View is the wacky behemoth of morning group talk shows. Created by Barbara Walters because she "always wanted to do a show with women of different generations, backgrounds and views…And in a perfect world, I'd get to join the group whenever I wanted," the panel of ladies sitting around a table became a model that has not yet managed to be duplicated in the same way. While The View might appear to be far trashier now than it was when it began, it was truly only Meredith Vieira and Walters who held it up to any sort of standard. It follows a traditional organizational pattern, but the true devotion by the rotating panel of women to blabbing about "Hot Topics" at the beginning of every episode is what has truly allowed some of the most ridiculous, ill-informed and nonsensical things to be passed off as "information" on television.
If you're into lesbians and irrationally despise Leah Remini, you should watch The Talk
The Talk was a clear View ripoff from the get-go, but with edge; in one season premiere, the women went "make-up free." It sort of felt like the show was some sort of gift to moderator Julie Chen, whose husband Leslie Moonves is the head of CBS, but The Talk was actually created by Sara Gilbert, a weird switch from her days on Roseanne. They like to do craaaZyy things like watch the Casey Anthony verdict live and have the audience see their reactions. Stunning performances, even now that former Scientologist Leah Remini was fired.
G/O Media may get a commission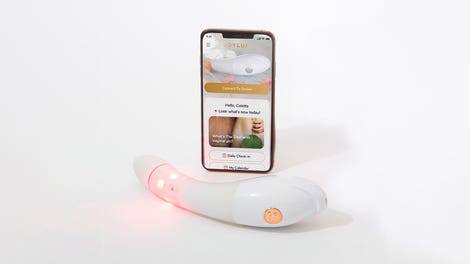 $50 Off
Joylux vFit Gold Device
If you're a woman of color who wants to keep your weave in while getting REAL, watch The Real
Featuring Tamar Braxton, Tamera Mowry-Housley, Loni Love, Jeannie Mai and Adrienne Bailon, this diverse cast is for all those minorities out there, a fact that's strikingly obvious because everything on the set is purple. These women talk about normal things, like how to give oneself a "vajaycial" which is a thing, apparently. Here is a sample discussion on John Mayer and Katy Perry:
Tamera: But, have you guys seen John Mayer in concert? I have, and he's sexy.

Jeannie: It's magical.

Tamar: He's sexy, but…

Adrienne: His body ain't no wonderland.

Tamar: Yeah, but what's not sexy is when you break up with someone and you ask for the ring back. It's like that's not cute. That's not sexy.

Tamera: I agree with that, I agree.

Loni: And I was done with John Mayer when he did that interview and he said that black girls don't make his wee wee go up. I was done with him. Remember that? Remember when he said that? Yeah, he said that.

Adrienne: To just make a statement like that such a broad statement, you're doing a lot.
Revelatory.
If you're a masochist with a not-so-secret alcoholism problem, you should watch Today with Kathie Lee and Hoda
Hoda, Hoda, Hoda, the internet cries. What is a Peabody-award-winning journalist doing getting drunk and letting Kathie Lee, a woman who left a show with her own name on it because she knew she was was too obnoxious, make YOU feel stupid. These women basically hate each other, disguising that hatred as playful bickering. Kathie Lee openly despises Hoda's actual smarts, while Hoda doesn't seem to understand how she's raking in a paycheck to sit next to a woman who once managed to trick her into revealing what kind of pubic hair she sports. When Hoda and Kathie Lee got their ownSaturday Night Live parody, SNL did the pair justice, but they're so good IRL that it almost felt weak, which might be the biggest compliment you can give them.
If you're the kind of person who gets off on flirt-fighting with your significant other in public much to the chagrin of everyone around you, enjoy Live! with Kelly and Michael
Kelly's lucky: she is SO much more entertaining than Kathie Lee, her predecessor on this program. Despite being teeny-tiny and sporting a somewhat shrill voice, Kelly basically grabbed the mantel of morning talk away from Regis, who blinkingly looked at her with his decrept eyes and claimed it was really he who wanted to retire. These days, Kelly's got someone who can really stand up to her: Michael Strahan, a partner who proves that we really have accomplished something through civil rights, as it wasn't that long ago that a black man talking to a white woman would have resulted in some swinging bodies in trees. There's nothing quite campy enough about the two of them to be notable, but they seem nice.
If your life is dull and you want to live vicariously through pseudo-real cheating scenarios while pretending to educate yourself, you should have watched The Ricki Lake Show
Known originally for her show Ricki Lake which basically displayed Lake as a female Maury ("Girlfriend, I've Slept With Your Man And I'll Do It Again And Again!"), Lake has now gotten some "serious" cred because of her documentary The Business of Being Born, thus allowing her to edge closer to that wishy-washy journalism line for her second try at daytime talk. While Lake attempted to gain the Oprah crown with her short-lived series, she still advocated for her projects, like when she had Amber Rose on to discuss Rose and husband Wiz Khalifa's desire for a natural birthing plan for their son Sebastian. In typical Lake style, her guests manage to walk the line between actual serious topic and borderline farce: "My midwife was like, listen, go to the doctor, get an ultrasound, confirm that he is breech," says Rose in her interview, which includes pre-taped segments with Khalifa seriously discussing how watching The Business of Being Born changed his life.
If your favorite part of Anderson Cooper is not his penis but his friendship with Andy Cohen, you should catch Anderson Live in reruns
Anderson Cooper's burgeoning Twitter presence seemed enough of a reason for him to switch to daytime talk from Hard News™ – plus like of course audiences would want more of their favorite Silver Fox (also ™). The cult following behind his segment on CNN "The Ridiculist" did a nice job paving the way for Cooper to cover lighter fare, but no matter how many fantastic times he trotted out his mother Gloria Vanderbilt to talk about her new erotica novel, viewers just didn't buy Anderson's particular form of gay BFF. That's a crying shame, because his show was actually kind of good; he tackled topics like the loss of a loved one while also getting his "eye cleavage" (breaking: not a thing) filled.
If you enjoyed Rosie O'Donnell more when she wasn't a lesbian and people still loved Tom Cruise, you should have tried Rosie
Rosie's been around the daytime TV block, first with her own hugely successful show, then on The View (where she and Elizabeth Hasselbeck would kill each other and then ressurrect their bodies for the next day's show) and then on her horrible no-good very bad Oprah impersonation on OWN. Rosie was plagued with problems from the beginning, which were almost gleefully reported in the media, but the real problem is that she was never just Rosie enough, as displayed during the confusing and boring goodbye message she gave when her show was cancelled. Maybe if she had included more Twitter poetry.
If your friends call you America's Sweetheart while secretly bitching about how great your legs are behind your back, try Katie while you still can
KATIE. You're so popular you named your show after yourself, as if you were the only Katie on earth, the only one ubiquitous enough to deserve that name. But you're not anymore and your attempts to treat topics like "prison love" seriously are funny but altogether not campy enough. Your best episodes are the girl power ones, like talking about Title IX for a whole episode with Robin Roberts. You didn't work on the evening news and you're not really working in the daytime, so what's left – dusk? Matt Lauer, again? Lord help you and your perky, always effortless army of housewives out there. Nice glasses though.
If you're the only person left on earth who still watches Survivor and doesn't think it's blasphemy that it keeps winning Emmy Awards, you would have been into The Jeff Probst Show
There's really not a thing to write about Jeff Probst except that he had a segment entitled "Ambush Adventure" where he would force people to agree to things without knowing what they were agreeing to. Yes means yes Jeff. This is supposed to be a safe space.
If you are the kind of person who actually knows that the Hallmark Channel is a channel and not just a stopping point between remote control clicks, Marie was for you
Knowing more about Marie would mean that you'd have to sit through a whole episode of her show. Unsurprisingly, brother Donnie shows up occasionally, but this is a woman who basically rests on the laurels of her dated childhood career as "a resilient talent with a magnetic presence recognized across generations. Entertaining for five continuous decades is a rare accomplishment, achieved by very few women." What's that thing about if you have to explain it it's probably not true? This is why you were cancelled sweetie.
If your gay interior designer is your BFF 4LYFE, you loved The Nate Berkus Show
It's so sad when talk shows end, because then the hosts have to go on someone else's talk show and explain why theirs failed. When his show was cancelled after two seasons, Nate Berkus had to talk Oprah about how he was the one who really pushed her to give him a show five days a week and it was truly his fault that it didn't work out and if only he had listened to Oprah...whatever. It's all a learning experience. He lived to makeover another room again.
If you think Portia de Rossi and Ellen DeGeneres have the greatest and purest love of all, you should be watching The Ellen DeGeneres Show
Upbeat upbeat upbeat: Ellen is like the BuzzFeed of daytime talk (or maybe BuzzFeed is the Ellen of the internet). Whether it's her support of JC Penney supporting her or her touting of Sofia Grace and Rosie or her tireless segments on other YouTube stars or her dancing, the woman might be edgy when she goes on late night shows, but during the day she's all sweetness. Except when she's flirting with guests. That stuff is serious business.
If you enjoy acting like a lady, but thinking like a man, Steve Harvey is for you
It's inexplicable that the Steve Harvey show is the one daytime show to have started in the past couple years that has actually done well. He is actually the ultimate mansplainer: what other man would be ballsy enough to write an advice book for women in which they were instructed to stay ladylike while attempting to be powerful like men are, only to then put himself in a movie about that book in which women's lives are changed from reading his advice? The narcissism runs deep.
If you enjoy watching a delusional blabbermouth talking to herself about people who are far more famous than her, you should watch The Wendy Williams Show
As a brilliant person once wrote, "I like to imagine that even if the audience wasn't in front of her, Wendy would still be there, hot topic-ing with herself." The woman doesn't even need guests, just the platform that is her show to yammer on endlessly about whatever topic she's decided is important for that day. Just take her interview with LeeAnn Rimes; you have to give Williams credit for literally asking Rimes whatever the fuck she wants without any understanding of appropriateness.
If you think solid advice can be delivered by someone who sends Tweets that include a hashtag of his own name, catch up with Dr. Phil
Dr. Phil might not have taught Steve Harvey about mansplaining, but they definitely went to the same school for it. He's essentially a slightly classier, Oprah-approved version of Dr. Drew. Let's just leave this here:
If you're a full-blown hypochondriac who goes to your much younger doctor as secret fuel for your spank bank in between sad sessions in the sack with your overweight and unimpressive husband, get on the Dr. Oz train
How people manage to sit through a daily show about health woes is beyond my comprehension. The human body might be interesting according to the cases that come up on Grey's Anatomy, but it's mostly totally mundane and the fact that women crowd around their televisions to watch someone describe how a yeast infection works using a "Whack-A-Mole"-style game is most definitely a crying shame for the entire medical community.
If you're one of two of the dumbest people in America who feel like you'll never know enough about the Kardashians, check out Kris
Kris was plagued with rumors about its potential downfall starting almost immediately before it began, mostly because host and Kardashian mom Kris Jenner is basically despised for pimping her children out. During her premiere episode, Kris spent seven minutes telling the behind-the-scenes story of the birth of Kim and Kanye's baby to a man who is presumably famous for being on a soap opera, before ending the episode by bringing out a fake prop baby she stole from one of her employees to trick the audience into thinking she actually had news to share. You might think that Jenner has enough vapidly boring family members to bring on the show Monday through Friday for an hour, but since they're already clogging up the E! Network all the live-long day, it's unlikely.
If you think you should be a cast member on the Real Housewives of New York, set your DVR for Bethenny
The star has fallen for Bethenny Frankel. People (*cough*) who fell in love with her for her uncensored sense of Upper East Side New Yorker humor during her two Bravo spin-off shows, which featured her getting married and having a baby, have now seen that things didn't work out so well for her. Though the test run of her talk show did well and she has the endless support of Ellen, it's hard to say if the love that was once bestowed on Bethenny will continue in the fall when her show launches, now that there are endless rumors about her tense relationship with husband Jason Hoppy. Her audience may have soured on her faster than they did with SkinnyGirl cocktails.
If you're over forty and hate Katie Couric that dumb bitch, watch The Meredith Vieira Show
Meredith joked about calling her new talk show, set to air in September 2014, Katie, but that actually might be the best title for it, considering it's hard to imagine how it would really differ from Katie. At this point, we're totally daytime-showed out and you should be too Meredith. Go home. Take a break. Put your feet up. Watch some Oprah reruns. Breathe.
Image by Sam Woolley, photos via Getty