katie-erin brockovich; love behind bars-rachelle-2013-7-9
Tuesday afternoon's episode of Katie was entitled LOVE BEHIND BARS and if that doesn't make you wish you'd watched it, Katie Couric interviewed Phil Spector's wife Rachelle, former journalist Amy Friedman who married a man she met while interviewing him in prison, and Erin Brockovich, recently arrested for a BUI (boating under the influence). What a trifecta of imprisonment those producers hit; this was a DOOZY of an afternoon.
Ana Gasteyer Satirizes the Girl Boss in 'American Auto'
First up: Rachelle Spector. Rachelle married Phil in 2006, and there is a 41 year age difference between them. Couric interviewed Rachelle about what it's like to be married to someone who is in jail for a sentence of 19 years to life for murdering Lana Clarkson. Rachelle adamantly argued that Spector is innocent, which is her right, but it was her dismissal of Spector's clear history of violence and domestic abuse that was really insane.
"I can only say that when I left in the early 1970s, I knew that if I didn't leave at that time, I was going to die there," wrote Ronnie Spector of her marriage to Phil (read her autobiography, it's so good!). That's a very different experience than Rachelle's understanding of Spector; she described him as "one of the nicest caring and geniune individuals I've ever met in my life," adding that "nobody knows the real Phil Spector like I do." When asked by Couric about testimony from the several musical artists who have alleged that Spector pulled guns on them, Rachelle said those were just "people who don't know him and want to run his name through the mud." She also adamently denied that she was a gold digger, saying she if she was, she would have gotten out of her marriage far earlier:
"Boy did I step in it! This is something that you can't get off your shoe."
MOVING ON. Katie's other prison wives/potentially incarcerated ladies were far more interesting. Next was Amy Friedman, who wrote a book about marrying a man in prison. She spoke articulately about the trials and tribulations of being in a relationship with someone who is in prison, explaining that they would spend some conjugal visits with his daughters, just having dinner. She also spoke about how difficult it is for prisoners who finish their sentences to adjust to the real world, and how that took a toll on her relationship (the two are now divorced). "When I went to visit [him at prison], I always looked great," Friedman said, listing that as just of the little things that was drastically different when her husband returned home and had to face his new reality.
G/O Media may get a commission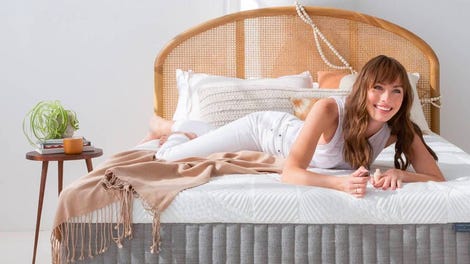 Sleep Sale
Sleep Sale - Brentwood Home
Finally, Erin Brockovich joined Katie to discuss her BUI. It seemed sort of bizarre that Brockovich would do this; perhaps she's worried about her impending trial (she says she faces a $1000 fine and six months in prison) but besides one Daily Beast article that Couric said was "used by some to discredit the tireless work that made Erin Brockovich famous," her story basically dropped out of the news after it happened. Anyway, Brockovich still knows how to give a fantastic interview and could give Reese Witherspoon a pointer or two about how to apologize without seeming utterly over the top. She spoke eloquently about her continued environmental work, saying solemnly, 'There's always more to do."
Of course, we now know that all those bruises under her eyes were because she had just gotten her eyes done, something Couric couldn't resist commenting on: "Just to add a little insult to injury, everyone on the planet knows that you had your eyes done!" Just the cherry on top of the whole thing!
And one final note: Whoever Katie has stolen from Oprah and to design her sets, BRAVO.