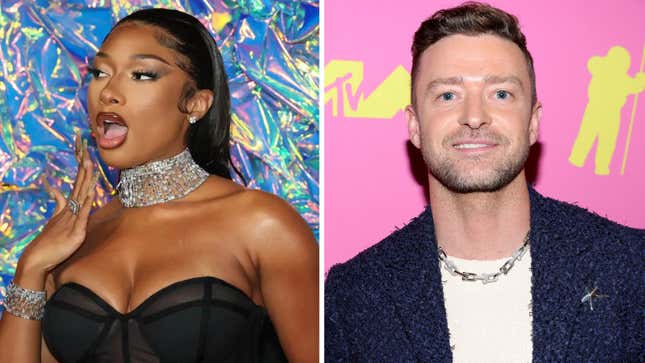 The VMAs have alas returned to relevance: Real celebrities (read: Taylor Swift and Selena Gomez), and not just micro-influencers and alleged abusers, are back, and so is all the drama. At Tuesday night's award show, a video of Megan Thee Stallion and Justin Timberlake appearing to clash backstage went viral, sparking an avalanche of speculation as to what the two were saying to each other. It certainly looks heated from what we can glimpse before Timberlake disappears off-camera—but within an hour or so of the video's vast circulation across social media, reps for the artists made a swift attempt to put rumors of conflict to bed.

A source quickly assured outlets including People, Variety, and Entertainment Tonight that the real exchange was, if anything, enthusiastically friendly, with Timberlake expressing delight that they got to meet and Megan insisting that they meet again in a less chaotic setting. "He said, 'It's so nice to meet you,' and she said, 'No, no, this don't count, this don't count. We gotta meet proper,'" the source told the outlets. Later, another source told People that "Meg loves Justin," adding, "She was saying, 'No, no, no, we've never met before!' It was their first time meeting and she was excited."
By Wednesday morning, Megan had apparently caught wind of the feud rumors, posting a slow-mo TikTok of her and Timberlake having a grand old time together after the VMAs set to Do As Infinity's "Fukai Mori" with the caption, "I just talk with my hands🤷🏽‍♀️ lol @justintimberlake love ya 💙"
Fair enough! I'm glad to hear there's no drama because Megan truly doesn't need more of that. And Timberlake, who's more recently had to dole out years-late, flaccid apologies to female artists like his ex Britney Spears and Janet Jackson, would simply have to have a death wish for his career to come for Thee Stallion next.
---
Drew Barrymore continues to take the massive amounts of public goodwill toward her and light it on fire by sidestepping the ongoing writers' strike. One day after audience members said they were removed from a taping of her show because they were wearing WGA pins in support of striking writers, one writer and member of the Writers Guild of America, East council said he's heard from other audience members whose bags were searched by security and had WGA pins confiscated. Yikes.
Then, on Tuesday, the National Book Awards rescinded their invitation to Barrymore to host this year's award ceremony slated for November 15. "Our commitment is to ensure that the focus of the Awards remains on celebrating writers and books, and we are grateful to Ms. Barrymore and her team for their understanding in this situation," the organization said in a statement. Per the Associated Press, Barrymore has at least three writers on her staff who are currently striking for better working conditions.
---