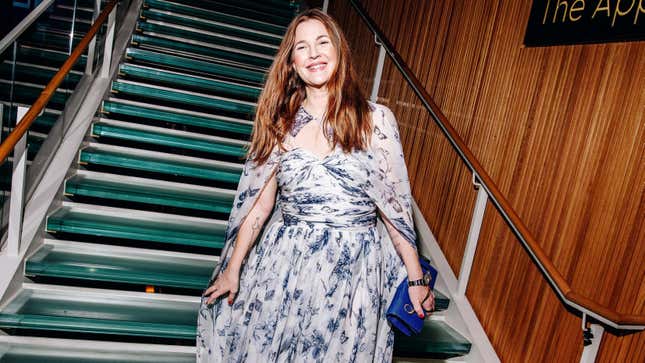 Drew Barrymore, whom many of us would like to believe is a people's champ, posted a statement to her Instagram on Sunday owning (read: defending) the decision to return her talk show to the air during the ongoing WGA writers' strike. Oh Drew. The Drew Barrymore Show is set to return for its fourth season on Monday, September 18.
"I made a choice to walk away from the MTV, film and television awards because I was the host and it had a direct conflict with what the strike was dealing with which was studios, streamers, film and television," begins Barrymore's statement. Credit where it's due: It was cool when she pulled out just days before the MTV Movie & TV Awards aired in May. Felt like solidarity! This self-administered pat on the back is well-earned.
Buuuut, Barrymore continues: "I am also making the choice to come back for the first time in this strike for our show, that may have my name on it but this is bigger than just me." Here, Barrymore—who, whether sincere or not, tends to strike a benevolent tone in her public communication—may be here referring to members of her show's crew who aren't in the WGA and would lose money if the show stayed dark.
Barrymore then makes it clear that the decision to return to air at this time is hers—"I own this choice," she writes. Again, she probably means well or is at least trying to mean well, but in her statement, she says, "I want to be there to provide what writers do so well, which is a way to bring us together or help us make sense of the human experience," which basically reads like: I can do your job for you, writers.

And then the logic gets...hazy. Real hazy. Along with not writing, WGA members are not promoting their work as part of the strike. Referencing that strike rule, Barrymore says that her show's return will be "in compliance with not discussing or promoting film and television that is struck of any kind." Here's the rub: The Drew Barrymore Show is currently struck as part of the ongoing WGA strike. Its very existence is a discussion of itself. The subtext of The Drew Barrymore Show is always: "The Drew Barrymore Show is definitely on television."
Says the WGAE:

Struck talk shows like The View and Tamron Hall have continued airing new episodes in spite of the WGA strike, which is well over the 100-day mark. A spokesperson for CBS told Deadline in a statement: "The Drew Barrymore Show will not be performing any writing work covered by the WGA strike." The WGAE started picketing Drew on Monday in New York City when the show resumed taping. A picket is scheduled for Tuesday, as well.