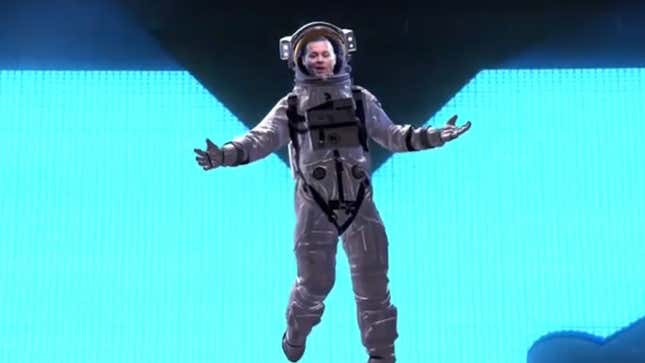 Johnny Depp is actively ignoring our pleas to permanently give us some space—preferably, by launching himself into actual space. But he must be hearing us, because he's at least dressing the part.

The Johnny Depp and Amber Heard Defamation Trial Has Begun
The actor and alleged abuser appeared at the MTV Video Music Awards (VMAs) Sunday night with a series of pre-recorded messages projected onto the face of a Moon Person suspended above the stage. During his debut bulletin, Depp appeared to utter the following: "I needed the work."
Depp also took to Instagram to make his "comeback" official via a clip that appeared in the second hour of the telecast. In it, he jests that he's available for "birthdays, bar mitzvahs, bat mitzvahs, weddings, wakes," and "any old thing you need. Anything." Personally, I think we're all set!
Later on, just after a commercial break, he appeared again to say, "Let's get back to the fucking music, shall we?" Marked applause followed.
Depp's played a pirate, an indigenous person, a murderous barber, a deranged candymaker, a man who inexplicably wields scissors for hands, and an absolute clown. It was really only a matter of time before he felt that he needed to play an astronaut as well.
Fortunately, we were forewarned. His appearance was first reported by TMZ over a week ago, with sources close to the show's production revealing that Depp would attend the VMAs dressed as Moon Person (formally Moon Man). Just days ahead of the ceremony, sources told the New York Post that Depp was "really excited" and "ready for his comeback."
If you're like me, you stopped watching MTV after the Jersey Shore cast started procreating, but you likely remember that said Moon Person is the living embodiment of the silver statuette awarded to VMA winners. So, in addition to being an astronaut, Depp also seems to fancy himself a prize.
Did he need the work though? In short: not really! Since the verdict was read in his defamation suit against ex-wife Amber Heard, he's announced a new album, scored designer brand deals, produced utterly unremarkable art, and nabbed new acting and directing gigs—all of which means he's raking in millions, in addition to the $15 million he was awarded after the six-week trial—and whatever MTV paid him for this bizarre appearance.
Depp's comeback launch has yet to be affected, even after 6,000 leaked documents revealed the following after the trial: Depp's legal team claimed they weren't able to locate crucial text messages that confirmed their client kicked Heard on a private flight; fought to exclude disconcerting text exchanges between Depp and his longtime friend Marilyn Manson (also an alleged abuser); and sought to have expert testimony omitted from the trial because it affirmed that Depp did, in fact, domestically abuse Heard.
We didn't need a Depp resurrection. We are, however, desperate for Elon Musk to be so inspired by the sight of Depp as an astronaut that he offers him a one-way ticket to explore the great beyond.