Vogue has long been derided for being silly and out-of-touch, for persistently printing the annoying ramblings of Plum Sykes and Marina Rust, and for serving as a tedious showcase for $64k gold-plated fur coats.
And for repeating stale ideas, working with the same photographers, stylists, and models every single issue, and publishing shot-by-shot re-enactments of their own editorials and ads. And for publishing shot-by-shot re-enactments of other magazines' editorials. And for putting the same starlets of narrow appeal on the cover — Sienna Miller, Blake Lively, Charlize Theron, and Keira Knightley all have more covers to their name than the level of public interest each is able to command would seem to dictate.
It's not just us who have been saying these things. In January of last year, Cathy Horyn wrote:
"Vogue has become stale and predictable, and it has happened in spite of some of the best editors, writers and photographers in the business...What once felt like a jolly skip through Bergdorf now feels like an intravenous feed. To read Vogue in recent years is to wonder about the peculiar fascination for the 'villa in Tuscany' story. Ditto staff-member accounts of spa treatments and haircuts."
G/O Media may get a commission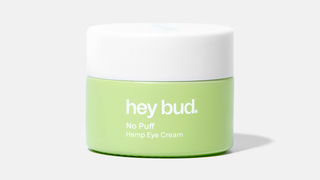 15% off
Hey Bud - No Puff Hemp Eye Cream
So it's has been astonishing to read over the last few issues of Vogue and experience something genuinely unexpected. First it was a flicker of — could it be? — aesthetic delight, when legendary photographer Peter Lindbergh returned to the Vogue fold after 18 years. Anna Wintour's overture to the photographer took place in March, and his first story, an 18-page 1950s-set spread starring Natalia Vodianova as liquor-sodden, dissolute parents of twins/possible bankrobbers, was published in the July issue.
It was really good.
And, to be fair, Marion Cotillard's cover was much, much better than the Photoshop of Horrors that Annie Leibovitz's possessed laptop spat out last November.
July's photography-themed editorial in which Cotillard starred also made a nice...God, this word is so hard to type...change from the usual contrived celebrity spreads Vogue runs.
Gwyneth Paltrow — another of those starlets Vogue editors inexplicably imagine readers are fascinated with — also made out a lot better on this month's August cover than she did in the Photoshop accident of 2008 that claimed her clavicle. August's isn't the most exciting cover, sure, but at least its subject looks human.
And there's some evidence that Wintour is shaking up the boring old cover roster. September's cover is going to Halle Berry, who hasn't had a cover since 2002. To say Vogue, like a lot of fashion magazines and fashion in general, has an inconsistent record where it comes to featuring women of color, is putting it mildly. As it turns out, Berry will be the first black woman to front the crucial, and traditionally best-selling, September issue since Naomi Campbell in 1989.
October's Vogue is rumored to feature Carey Mulligan on its cover. Although what Vogue did to the actress in her last feature — tranforming a beautiful girl into a pathetic Dickensian urchin — was pretty much unforgivable, at least it's not Sienna again. Even better, Mulligan is better known for her acting than she is for her relationships or her "style."
And Vogue is also changing up its photographers. Inez van Lamsweerde and Vinoodh Matadin's work has, by my recollection, only been featured twice in Vogue's pages, both times fleetingly, and years ago. This month, they have a 7-page spread starring Raquel Zimmerman and a horse, and it's actually funny.
That shows me: I thought Vogue's sense of humor was fossilized in a botched experimental Botox procedure aeons ago.
But the most crucial sign of Vogue's uncharacteristic reversal into the realm of actual taste is definitely the Annie Leibovitz story the magazine ran in its July issue. Leibovitz' work has, of late, seemed grandiose and false; it may be because of her financial difficulties, but her recent pictures have seemed like the work of a mind otherwise occupied. And this story is very short — just two pictures, of models wearing dresses from the last collection to be touched by Alexander McQueen's hands.
These two pictures (the first is at the top of this post) are pretty much unimpeachable. The light, the composition, the mise en scene that suggests the gowns — some made from textiles based on great works of art — are museum pieces being unpacked from shipping crates, the models' hair and makeup...everything about these photos works. Cautious as we all have reason to be, if this is what Vogue looks like when the magazine is truly in form, then long may Anna Wintour reign.
(Until she puts Sienna on the cover, again.)