Button up your gladiators for a trip to '07, fashionistas! The trailer for The September Issue — the hotly-guarded, perhaps-unfavorable, partially-Hearst-produced documentary about Anna Wintour and American Vogue's biggest-ever issue, the 840-page, 727-ad September, 2007, behemoth — has leaked online.
Everyone wants to know what exactly goes on around the 12th floor of 4 Times Square. As the trailer states, one in ten U.S. women will get Vogue's September issue — which is a fantastically broad reach for a fashion title. How the sausage is made is a question that R. J. Cutler's documentary will, one hopes, answer in full. What we can tell from the trailer is this:
Wintour's legendary editorial nit-picking is not an exaggeration. In addition to replacing stylists, trashing finished shoots (including one with Hilary Rhoda and Chanel Iman, which never saw the light of ink), pre-approving all styling choices, and demanding a full, un-edited selection of shots from the photographers Vogue works with, she nay-says fonts. "This type seems so large, and pretentious," she mutters. "It looks like it's for blind people."
The trailer also makes clear that Wintour's interventions do not always redound to her title's benefit. The camera lingers over an image from stylist Grace Coddington and photographer Steven Meisel's 1920s-themed shoot, which Coddington reports her boss killed and re-shot at least three times.
G/O Media may get a commission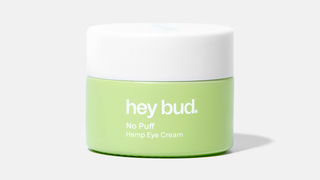 15% off
Hey Bud - No Puff Hemp Eye Cream
Even in grainy online video, this double-page picture — a witty take on "Déjeuner dur L'herbe", with picnicking models in pageboys and flapper dresses — looks better than what actually made it into the magazine nearly two years ago.
As for the actual September, 2007, issue, it mostly sticks out in my mind as the point at which Vogue basically ate itself. In addition to relying on model Caroline Trentini, a perennial Wintour favorite, to do three editorials, there were numerous other embarrassing juxtapositions that proved the paucity of Vogue's ideas. For instance, accidentally publishing a shot-by-shot re-make of a David Sims editorial which had been perfect-bound by the magazine only seven months before.
That's Patrick Demarchelier's September, 2007, story with Trentini, "Brights! Camera! Action!" on the left, and Sims' February, 2007, story with Gemma Ward, "Park Avenue" on the right. In case you couldn't tell them apart.
And Raquel Zimmerman appeared for a Craig McDean edit in a head-to-toe Balenciaga runway look, which was also identical to the David Sims-shot Balenciaga campaign of that season, starring Anabela Belikova.
Advertising and editorial images which are not just indistinguishable, but actually mirrors of one another — just a few pages apart.
I suppose that kind of overlap is the risk you run when all your styling decisions are taken straight off the catwalks of six months prior, and your inch-thick magazine is 87% ads, anyway. To date, the September, 2007, issue remains the biggest Vogue ever printed — a monument to pre-recession thinking, advertiser largesse, and hamstrung creativity that we may never see surpassed.
The September Issue [Yahoo! Movies]