Times fashion critic Cathy Horyn is famous for her willingness to dose the industry with healthy perspective. So how delicious is Horyn's savaging of Vogue as "stale and predictable"? And that's just a warm up!
Horyn's critical voice is so fresh that she is regularly uninvited from even the most high-profile shows — her ban list, of which she seems perversely proud, has included Dolce & Gabbana, Giorgio Armani, Carolina Herrera, Helmut Lang, and Nicole Miller. It's no surprise that the flagship newspaper critics, particularly Horyn, Suzy Menkes at the International Herald Tribune and the incomparable Robin Givhan at the Washington Post are often some of the sanest voices in fashion, and, like the scrappier bloggers, the most willing to lay hands upon the industry's sacred cows: fashion magazines, as we all pretty much know, are too deeply compromised by their advertising to attempt any independent analysis of designers' wares. (Trust me, you don't want to know how many times a fashion editor has thrust a not-quite-matching item on me at a shoot with a remark about how the magazine needs the editorial credit line because the label is an advertiser.)
But an article taking on the embattled editor Anna Wintour headlined, astonishingly, "What's Wrong With Vogue?" raises the ante a little higher than usual.
G/O Media may get a commission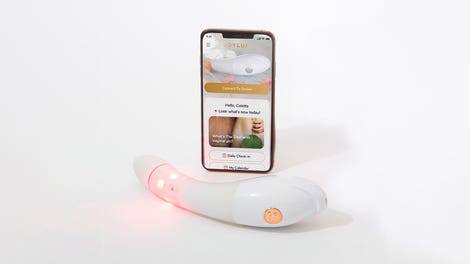 $50 Off
Joylux vFit Gold Device
"Vogue has become stale and predictable, and it has happened in spite of some of the best editors, writers and photographers in the business," alleges Horyn, in what amounts to a throat-clearing before she lets rip. <blockquoteThere are too many stories about socialites — or, at any rate, too few such stories that sufficiently demonstrate why we should care about these creatures. What once felt like a jolly skip through Bergdorf now feels like an intravenous feed. To read Vogue in recent years is to wonder about the peculiar fascination for the 'villa in Tuscany' story. Ditto staff-member accounts of spa treatments and haircuts.
It's embarrassing to see how Vogue deals with the recession. For the December issue, it sent a writer off to discover the 'charms' of Wal-Mart and Target.
Cathy, you had us at Tuscany. (Of course, we've been saying this for ages.)
As for Wintour, the writing is also on the economic wall: For all of 2008, ad pages across the beauty/fashion magazine sector fell 8%; Vogue's decline was sharper, at 9.6%, while major competitors Elle and Harper's Bazaar beat the average. And 2009 has opened grimly for Vogue. The January magazines, though typically light in ad content ahead of the unveiling of major new spring campaigns in February and March, have seen an average of 20.41% fewer ad pages this year. But while Elle and Harper's Bazaar only shrank 8.04% and 7.12%, respectively, US Vogue had a whopping 44.06% decline in ads. That's the biggest monthly drop of any national women's fashion magazine. Vogue set the curve. (Interestingly, Essence, which had 22.5% more ads this January than last, was the only publication in the sector to show a net gain.) These developments make Condé Nast's 2-page ad in last month's Times Sunday Styles section touting Wintour's achievements as editor and boasting of Vogue's status as the fashion magazine with the highest overall number of ad pages for the year look more than desperate. Surely if Wintour's — and Vogue's — positions atop the American fashion world were so secure, we wouldn't need to be so loudly reminded.
And while American Vogue's bottom line has faltered under Wintour's leadership, so has its creative currency. Month after month of studio editorials with straight-from-the-runway styling and jumping models, covers with Hollywood starlets of questionable talent and accomplishments, and holier-than-thou Plum Sykes reportages on the indignities of having to blow-dry one's own hair will do that to a publication. The photographers Wintour brought in as fresh young talents early in her 20-year tenure, such as Steven Meisel and Peter Lindbergh, have long ripened into establishment respectability, and there's been little infusion of new blood since.
Vogue has not found a way to define fashion in ways that speak to women of my generation. For one, Wintour seems to labor under the profound misimpression that 18-29 year olds with an interest in fashion can only process interesting clothes when they're shown on a celebrity, as if fashion were some toe-curling foodstuff best stomached when pureed into a gossipy brownie. Vogue functions like a bloodless total institution, a stuffy closed feedback loop in the open-source Internet era: Wintour thinks that, by placing the designer's ad in her magazine, dressing an actress in the designer's frock for an event, photographing the actress at the event in the frock and running the photo in the society pages of the magazine, and finally reminding us of the frock's existence in an editorial where Caroline Trentini models it for an issue where the actress is probably on the cover, she can maintain her power. As long as the bleedthrough from advertising to editorial to real-life celebrity "culture" is smooth, so long as the algorithm of aspiration balances, nobody else in the equation has any choice but to play their assigned roles. But if the readers are literally no longer buying the goods, Wintour's system won't last much longer.
Horyn quotes Vanity Fair fashion editor Michael Roberts, a self-described friend of Wintour's, calling her "old news." Still, when pressed, Roberts manages to come up with an example of one good editorial decision Wintour has made at Vogue:
'I've never seen anything from Carine [Roitfeld] that astonishes me the way that I have in American Vogue. I've seen kinky, sexy but not astonishing. But I did see astonishing in Vogue when Anna published a picture of Nadia Auermann having sex with a swan.' He was referring to the Helmut Newton picture from the early '90s. That kind of subversion made American Vogue really cutting edge, Mr. Roberts said.
I found the Helmut Newton photograph of Nadja as the mythical Leda; it is undeniably beautiful.
It was also published in June, 1994.
Earlier:
Being Anna: "Sometimes You Don't Love The Press"
3 Reasons We Hope The Wintour/Roitfeld Rumor Is True
Wintour Said Replaced By French Counterpart [Gawker]
Related:
"What's Wrong With Vogue?" [NY Times]
Magazine Monitor Master List [Mediaweek]