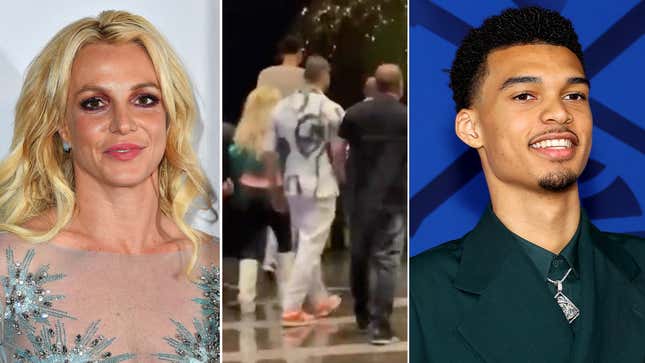 Earlier this week, TMZ reported that Britney Spears was assaulted by a security guard for NBA star Victor Wembanyama for approaching him for a photo on Wednesday evening in Las Vegas. Spears, who filed a police report against the security guard (identified as Damian Smith, director of team security for the San Antonio Spurs), claimed Smith had backhanded her in the face for merely tapping Wembanyama on the shoulder, while Wembanyama claimed she had grabbed his shoulder.

On Friday afternoon, newly released video footage of the incident obtained by TMZ appears to show Spears trying to tap Wembanyama's shoulder but barely getting close enough to grab his shoulder before the security guard, identified as Smith, pushes her back—which caused either his hand to accidentally hit Spears or caused Spears to hit herself in the face. Wembanyama doesn't appear to turn around or register Spears, and he and Smith don't stop and continue walking after Spears is hit. A witness speaking to TMZ said they saw Spears "fall to the ground," though this isn't shown in the video and Spears' statement on the encounter doesn't detail this.
Multiple spokespeople for the San Antonio Spurs did not immediately respond to a request for comment from Jezebel on the video footage of the incident, the status of Smith's employment, and whether the organization views his treatment of Spears—or any hypothetical fan in her position—as appropriate.
The public release of the footage comes after the Associated Press reported earlier on Friday that no charges will be filed against Smith.
Prior to the release of the video, Spears and Wembanyama both gave slightly conflicting statements about how Spears had approached the NBA player. Spears described the incident as "traumatic" and recounted tapping Wembanyama on the shoulder rather than "grabbing" him, and stated that she's "yet to get a public apology from the player, his security or his organization."
In an interview, Wembanyama repeatedly claimed that the person behind him—who he didn't initially realize was Spears—had grabbed his shoulder, but that he didn't "see what happened" or "know with how much force but security pushed her away."
Of course, to state the obvious, it doesn't matter whether the fan involved was Spears or anyone else; a woman who clearly wasn't threatening anyone's safety shouldn't have been physically harmed by a security professional. As the video footage clearly shows, Spears couldn't have even grabbed Wembanyama if she'd tried, because she was unable to even get near enough to do.
"Physical violence is happening too much in this world... I stand with all the victims and my heart goes out to all of you!" Spears wrote in her statement. Her husband Sam Asghari, who witnessed the incident, wrote in his own statement that he "can't imagine a scenario where an unarmed female fan showing any kind of excitement or appreciation for a celebrity would cause her to be physically assaulted, much less being hit in the face for tapping someone on the shoulder."
TMZ reports that in the aftermath of the incident, Smith tried to defend his actions to Spears by invoking Wembanyama's fame: "You understand how it is when you're being swarmed by fans," he reportedly told the singer. But Spears is objectively far more famous than Wembanyama. As she noted in her Thursday statement, "I get swarmed by people all the time. In fact, that night. ... My security team didn't hit any of them."
Nonetheless, in the two days since reports of the altercation emerged, Spears has faced torrents of vitriol and online attacks from male basketball fans arguing that she deserved to be hit in the face for "grabbing" Wembanyama. For some reason, I suspect the actual footage of the incident is unlikely to change those particular people's glee over a woman getting hit in the face.
Correction:  A previous version of this story said the video shows that Wembanyama's security guard hit Spears, causing her to fall backward. This updated version reflects that the details of the incident still remain unclear.