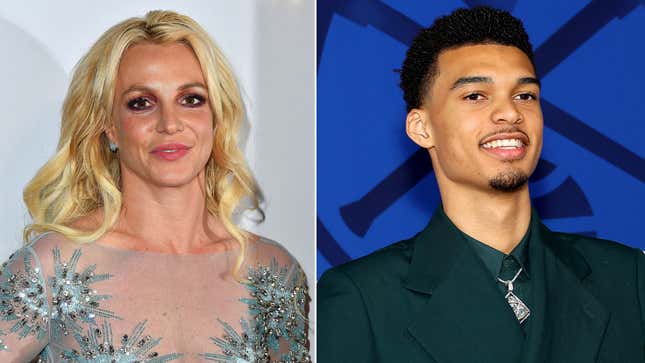 UPDATE 7/7: The Associated Press reported early Friday that no charges will be filed against Victor Wembanyama's security guard for reportedly pushing Britney Spears for approaching the NBA star earlier this week.
UPDATE 7/6: Britney Spears on Thursday evening released a statement addressing the incident, denying that she grabbed NBA star Victor Wembanyama and claiming that she merely tapped him on the shoulder. This prompted Damian Smith, the Spurs' director of team security, to "back hand me in the face without looking back." Spears called the incident a "traumatic experience," and pointed out that despite  Smith's insistence that he responded in this manner because Wembanyama is frequently swarmed by fans, "I get swarmed by people all the time. In fact, that night. ... My security team didn't hit any of them."
According to Spears' statement, she's "yet to get a public apology from the player, his security or his organization," but "[hopes] they will." Spears concluded, "Physical violence is happening too much in this world... I stand with all the victims and my heart goes out to all of you!" Her full statement is included below:
On Wednesday evening in Las Vegas, Britney Spears fell to the ground after being pushed by a security guard for rising NBA star Victor Wembanyama, TMZ reported. The incident happened after Spears, apparently a fan of Wembanyama, and her husband, Sam Asghari, approached the recently drafted Spurs player outside a restaurant to try to ask for a photo.
TMZ initially reported that Damian Smith, the Spurs' director of team security, "instantly backhanded" Spears in the face after she tapped Wembanyama on the back, "causing her to fall to the ground knocking her glasses off." But after reviewing security footage, law enforcement sources told TMZ that Smith "[pushed] Britney's hand away" causing her own hand to strike her face. "Cops did not address the velocity of the force of the swing," TMZ said.
Shortly after the incident, Spears' team filed a police report naming Smith. And early Thursday afternoon, TMZ updated its story to note that a "source from high up" in the local police department said the case is a criminal investigation likely to be referred to the district attorney. TMZ's source added that law enforcement is taking the incident "as serious as a heart attack."
According to TMZ, Smith later came to Spears' table and apologized for the incident, according to TMZ, and Spears reportedly accepted his apology. "You understand how it is when you're being swarmed by fans," Smith reportedly told Spears, adding that he didn't realize who she was when he reacted so strongly.

It's not immediately clear how Wembanyama reacted to his security guard's actions or whether he personally met with and apologized to Spears himself. But what is clear is that Smith seems a little confused: However much hype there might be surrounding Wembanyama right now, there's no comparison between his stardom and hers. Spears, of all people, is familiar with the intrusive violations of overly zealous fans, who have harassed her with a barrage of police wellness checks to her home and spread a viral conspiracy theory that she'd been killed by her husband.
It's fairly unfortunate all around. This type of story is not a glowing start to Wembanyama's nascent NBA career, which will begin with an appearance in the Summer League this week—the reason he was in Vegas in the first place. Plus, the incident comes amid a recent escalation in characteristically nasty tabloid coverage of the singer. Respectfully, she's owed far more than a photo with Wembanyama at this point.