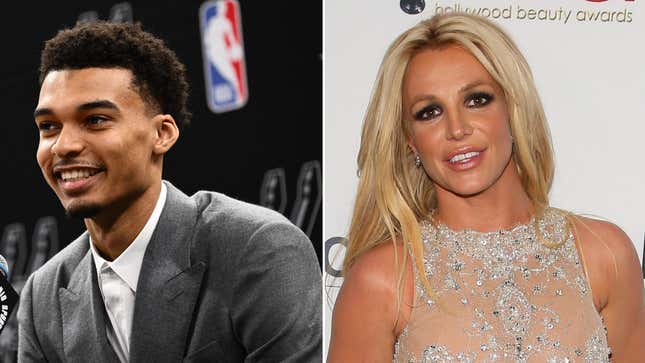 UPDATE 7/7: The Associated Press reported early Friday that no charges will be filed against Victor Wembanyama's security guard for reportedly pushing Britney Spears for approaching the NBA star earlier this week.
NBA star Victor Wembanyama has yet to apologize to Britney Spears after a Wednesday evening incident in Las Vegas in which one of the Spurs player's security guards reportedly backhanded Spears for approaching him for a photo. This caused the singer to nearly fall to the floor and lose her glasses, and prompted Spears to file a police report that's led to an ongoing criminal investigation, TMZ reported on Thursday.

In a Thursday evening statement, Spears, who called the incident "traumatic," said she's "yet to get a public apology from the player, his security or his organization," but "[hopes] they will." Around the same time, Wembanyama spoke on the matter as well, claiming Spears "grabbed" him from behind—which she denies in her own statement.
"Something did happen a little bit when I was walking with some security of the team to some restaurant," Wembanyama recounted in an interview when asked about the incident. "We were in a hall and there was a lot of people so people were calling me obviously." But he claims he didn't "see what happened" or even know that it was Spears who had approached him until hours later when he saw the news.
"That person grabbed me from behind," he continued. "I didn't see what happened because I was walking straight and they told me, 'Don't stop.' But that person grabbed me from behind, grabbed on my shoulder… so I just know that the security pushed her away." Wembanyama claimed he didn't "know with how much force but security pushed her away," and that he simply continued on with his night "and enjoyed a nice dinner."
Spears (in her statement) and her fans have criticized how Wembanyama and his team have handled the situation, with some questioning why his security guard, identified as Damian Smith, the Spurs' director of team security, would instinctively smack a woman. It's also fairly disappointing that, regardless of what Wembanyama himself did or didn't see, he can't express regret for how Spears was treated or even just say that he hopes she's doing OK.
"Physical violence is happening too much in this world... I stand with all the victims and my heart goes out to all of you!" Spears wrote in her statement. Her husband, Sam Asghari, who was with Spears when Wembanyama's guard hit her, has also spoken out about what happened: "I can't imagine a scenario where an unarmed female fan showing any kind of excitement or appreciation for a celebrity would cause her to be physically assaulted, much less being hit in the face for tapping someone on the shoulder," he wrote in a Thursday Instagram story.
In a follow-up post, Asghari called Smith "out-of-control," but insisted that the security guard's "violent behavior should not cast a shadow" on Wembanyama: "The blame should fall on the coward who did this, the people who hired him without proper vetting, and a systematic culture of disregard for women within sports and entertainment."
TMZ first reported that Smith "instantly backhanded" Spears in the face after she tapped Wembanyama on the back, "causing her to fall to the ground knocking her glasses off." Then, after reviewing security footage, law enforcement sources told TMZ that Smith "[pushed] Britney's hand away" causing her own hand to strike her face. According to TMZ, "cops did not address the velocity of the force of the swing." A law enforcement source did tell the outlet that police are taking the incident "as serious as a heart attack."
The tabloid also reports that in the aftermath of the incident, Smith tried to defend his actions to Spears by invoking Wembanyama's fame: "You understand how it is when you're being swarmed by fans," he reportedly told the singer. Of course, Spears is far more famous than Wembanyama, and she notes in her Thursday statement: "I get swarmed by people all the time. In fact, that night. ... My security team didn't hit any of them."
However many fans the NBA star may have, there really is no excuse for how Spears was treated.