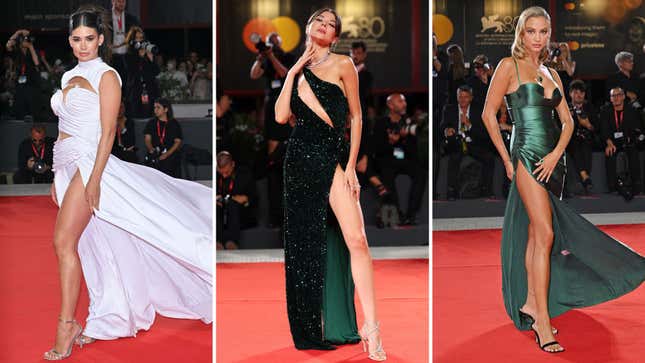 The vibes at this year's Venice Film Festival are a bit all over the place. Since the SAG-AFTRA and WGA strikes are ongoing, a number of stars seemingly decided to skip the red carpet in solidarity. (Love!) Emma Stone, for example, was not there to hear the eight-minute standing ovation for her performance in Yorgos Lanthimos' Poor Things, which is already garnering her Oscar buzz and apparently includes a scene where she has sex with a piece of fruit.

A few film stars, like those in Dogman and Ferrari, were said to have received WGA promotion waivers that allowed them to attend the festival without scabbing, but still, one festival publicist told the Hollywood Reporter that "glamming it up at Venice while your colleagues are on the picket line isn't a good look." Agree!

So, since so many A-listers are absent, it feels like—apart from Sofia Coppola and half the cast of Euphoria—there are a ton of B-listers, some nepo babies, and a handful of models walking the red carpet instead. Maybe they'd be there regardless. I don't know! What I do know is that the carpet is severely lacking some Don't Worry Darling-level drama (sad!) and Jacob Elordi is throwing up a peace sign any chance he gets (weird!).
Luckily, we also have every international artist, celebrity, model, and influencer giving us all the flair, color, and legwork we like to see on our red carpets. Enjoy.