Meghan Markle, future member of the British royal family and current Queen of Prince Harry's heart, has put up with a lot of subtle and blatant racism and classism since her relationship with Harry went public. This latest episode comes courtesy of one Jo Marney, girlfriend of a far-right U.K. politician, who reportedly sent a series of racist and classist texts claiming Markle's "seed" will "taint our royal family," and that "[t]his is Britain, not Africa."
On Saturday, the Daily Mail published a series of texts from Marney, who is dating UK Independence Party leader Henry Bolton. Marney, 25, started off the texts claiming she won't have sex with "a negro" because they are "ugly," then went on to slam Markle. "She's a 'gender equality t***. She's obsessed with race," Marney wrote, according to the Mail. "And her seed with [sic] taint our royal family. Just a dumb little commoner. Tiny brain. She's black...This is Britain, not Africa."
When Marney's unnamed correspondent called her out on being, you know, racist, Marney didn't do much to defend herself. "Not wanting other races and cultures to invade your culture doesn't mean I hate their race. Just means I don't want their cultures invading mine," she wrote. After all, it's Markle's fault for getting uppity. "She's a black American. Pushing their way to the top slowly slowly. Next will be a Muslim Pm. And a black king," Marney wrote.
Shortly after the texts were published, the party (whose founding members include #1 Brexit cheerleader Nigel Farage) suspended Marney's membership, and some party officials are calling for Bolton to resign. Marney, meanwhile, has apologized for the texts' "shocking language," but claimed they were taken out of context. "The opinions I expressed were deliberately exaggerated in order to make a point and have, to an extent, been taken out of context. Yet I fully recognise the offence they have caused," she said in a statement.
Markle, who is set to marry Harry on May 19 with or without Barack Obama present, has been hit with so much race-related harassment since the two started dating that in 2016 Kensington Palace had to put out an official statement decrying racist attacks against her. The good news is, Markle will not be intimidated, and she and the prince are doing just fine.
G/O Media may get a commission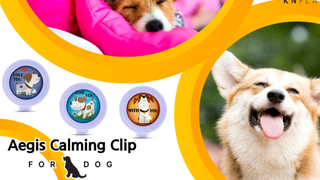 20% off
Aegis Calming Clip for Dogs