Before I get into this, allow me to clarify that celebrity news cannot possibly outweigh the importance of today's election, and that I don't want to be the screaming queen who's trying to get you to pay attention to Lindsay Lohan's new clothing line instead of heading out to the polls and casting your vote. Having said that, this story is a real whopper.

Kensington Palace—that Kensington Palace—issued a statement Tuesday confirming Prince Harry's relationship with actress Meghan Markle, but it wasn't a cause for celebration. They write that Markle (whom they explicitly refer to as Harry's "girlfriend") and her family have "been subject to a wave of abuse and harassment," and that Harry is worried for their safety.
While the statement is a surprising move, it's also an understandable one. British coverage of Markle has gotten "disgusting," to quote our resident Royal Family expert Kelly Faircloth. Here's a recent story from The Daily Mail:
Here is the full statement, which—I have to keep repeating this to convince myself—is real. I sourced this from Royal.uk, so it must be genuine! I mean, ROYAL DOT UK:

Since he was young, Prince Harry has been very aware of the warmth that has been extended to him by members of the public. He feels lucky to have so many people supporting him and knows what a fortunate and privileged life he leads.

He is also aware that there is significant curiosity about his private life. He has never been comfortable with this, but he has tried to develop a thick skin about the level of media interest that comes with it. He has rarely taken formal action on the very regular publication of fictional stories that are written about him and he has worked hard to develop a professional relationship with the media, focused on his work and the issues he cares about.

But the past week has seen a line crossed. His girlfriend, Meghan Markle, has been subject to a wave of abuse and harassment. Some of this has been very public - the smear on the front page of a national newspaper; the racial undertones of comment pieces; and the outright sexism and racism of social media trolls and web article comments. Some of it has been hidden from the public - the nightly legal battles to keep defamatory stories out of papers; her mother having to struggle past photographers in order to get to her front door; the attempts of reporters and photographers to gain illegal entry to her home and the calls to police that followed; the substantial bribes offered by papers to her ex-boyfriend; the bombardment of nearly every friend, co-worker, and loved one in her life.

Prince Harry is worried about Ms. Markle's safety and is deeply disappointed that he has not been able to protect her. It is not right that a few months into a relationship with him that Ms. Markle should be subjected to such a storm. He knows commentators will say this is 'the price she has to pay' and that 'this is all part of the game'. He strongly disagrees. This is not a game - it is her life and his.

He has asked for this statement to be issued in the hopes that those in the press who have been driving this story can pause and reflect before any further damage is done. He knows that it is unusual to issue a statement like this, but hopes that fair-minded people will understand why he has felt it necessary to speak publicly.
G/O Media may get a commission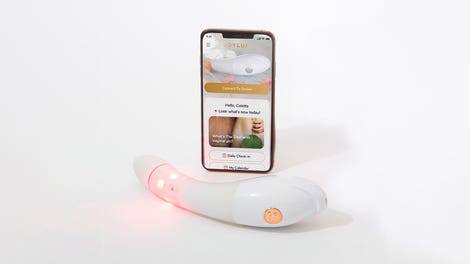 $50 Off
Joylux vFit Gold Device
[Royal.uk]
---
Here's some more unhappy news. All those headlines you may or may not have read last night claiming that Angelina Jolie and Brad Pitt had settled their divorce were apparently lies, lies, lies—or, to borrow TMZ's language, "BS." Their sources are busy "scoffing at the report that the divorcing couple struck a settlement giving Angelina primary physical custody while Brad got visitation."
They write:
The report published by Associated Press cites an Angelina source who says the couple reached the mutual agreement which includes family therapy. In fact, the couple agreed to extend the temporary arrangement ONLY until the L.A. County Dept. of Children and Family Services closes its investigation.
Brad is reportedly still holding out for joint custody.
[TMZ]
---
Hi! Here's what Page Six reports is a line from Mariah Carey and James Packer's (obviously) unused prenup:
"James shall have no further obligation to provide clothing for Mariah, but he may, as he chooses, make any gifts of clothing...except for gifts between them for their engagement, wedding or on birthdays and anniversaries, no item of jewelry and/or personal adornment costing over $250,000 will be deemed a gift unless accompanied by, or promptly followed by, a writing specifically stating, 'This is my gift to you.'"
[Page Six]
---
Lorde turned 20 last night.

Taylor and Karlie were there.
And Tavi and Mae and an Antonoff (maybe two?) and someone named Jerry.
Oh, and Aziz.
---
Don't read what Fassy said. Just look at those pictures. [Celebitchy]

I never remember who this guy is. [ONTD]
Jerry Seinfeld hates selfies. [Page Six]