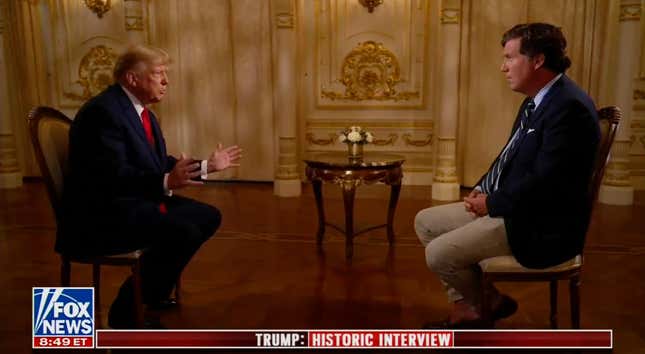 Weeks after leaked texts showed Fox News host Tucker Carlson referring to former President Trump as a "demonic force," among other disparaging comments, Carlson hosted Trump on his show Tuesday night seemingly in an effort to talk things out maturely, man to man.

Anita Hill, Like Many of Us, Thinks Clarence Thomas is Full of Sh*t
The hour-long interview special went about as smoothly as any hour-long interview special between two terrible people who transparently hate each other might go. Trump used the interview to humiliate Carlson by letting him get at most three sentences in the whole time and went on whimsical tangents, instead of letting the conservative pundit focus the interview on the ongoing criminal investigation into Trump over illegal hush money payments he allegedly made ahead of the 2016 election.
The most that Carlson was able to extract from Trump on his reaction to his own indictment and arrest last week was the former president's prolonged rant about how heartbroken everyone at the New York courthouse was to see him in trouble. "I'll tell you, people were crying. People that worked there professionally that have no problems putting in murderers, they were crying. They were actually crying. They said, 'I'm sorry,'" Trump said. He concluded, "In one sense, it was beautiful."
If I had to pull out a single clip to embody the overarching tone of the interview, it would probably be this one.
At varying points, Trump mocks Carlson for "assaulting" North Korea's Kim Jong Un during Trump's diplomatic trip to the country during his presidency; he lavished praise upon the appearance of Chinese President Xi Jinping's translator ("She's very beautiful. Well, today, they'll say 'that's terrible, you're not allowed to say that,' but she was very professional."); he elaborated that for him, the "real N-word" is "nuclear energy;" and he mused that there's "just something wrong" with President Biden that he can't put his finger on. In other words, Trump was fairly true to form, spewing out an hour of comical bullshit while Carlson's face contorted into the full spectrum of his characteristically confused, highly meme-able expressions.
As Rolling Stone noted, Carlson was merely "a passenger to his own interview." Like those of us watching from home, he was simply along for the ride through Trump's perennially scattered brain and almost childlike, overly active imagination. Visibly seething with irritation, the Fox host at one point told audiences directly that he had hoped the interview would delve more deeply into Trump's criminal troubles: "We traveled to Mar-a-Lago today to interview the president on his recent arrest by a Democratic prosecutor, but once we sat down, we wound up talking mostly about foreign policy," Carlson said. Well, we all hope for things, Tucker!
Say what you will about Trump, but many have devoted their careers to trying to silence and humiliate Carlson, and few have done so as ably as the former president. Free idea: They should both retire from their respective careers and take this dueling comedy bit on the road.