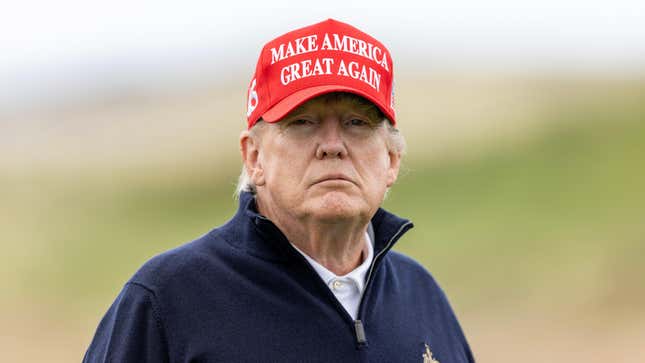 Donald Trump, who's currently visiting his golf course in Doonbeg, Ireland (which he said gave him a "beautiful reception"), seems to be considering cutting the trip short in order to skip back over the pond and check out the scene at the Manhattan Federal Courthouse.

Infamously Thin-Skinned Man Joins Twitter's Board
"I'm going back to New York," Trump told Irish reporters at his resort on Thursday. "I was falsely accused by this woman, I have no idea who she is—it's ridiculous." He adds that he's going to "go back and confront this woman."
E. Jean Carroll, the writer who accused the former president of rape and defamation in a civil suit is, of course, "this woman." In this week of testimony from Carroll's side, a friend testified about the "breathless, hyperventilating, emotional" phone call she got from Carroll minutes after the attack; another woman testified about her own sexual assault by Trump on an airplane; and parts of Trump's October deposition (the one where Trump identified Carroll as his ex-wife Marla Maples) was played for the jury. On the other side, Trump's attorney Joseph Tacopina said they would not mount a defense.
In 2019, Carroll wrote about the rape in her memoir, What Do We Need Men For? A Modest Proposal, accusing Trump of assaulting her in a Bergdorf Goodman dressing room in the 90s after helping him pick out a gift for a woman. "Trump opened his overcoat and unzipped his pants," according to the lawsuit Carroll filed in November after a New York law allowed victims of sexual abuse to sue their accusers even if the criminal statute of limitations had passed. "Trump then pushed his fingers around Carroll's genitals and forced his penis inside of her."
On Wednesday, Carroll's friend, Lisa Birnbach, told the court that she initially told Carroll this was rape. "E. Jean he raped you," Birnbach testified she told her friend on a phone call minutes after the incident. "You should go to the police."
Trump has long denied Carroll's accusations, claiming things like Carroll is "not my type," that he "never met this person in my life," and that the incident "never happened."
So Trump —who spoke to reporters about maybe stopping by the trial like he was maybe going to stop by a happy hour—is continuing to maintain that nothing happened. "I'll be going back early because a woman made a claim that is totally false, it's fake," he said...for a third time.
But his supposed return is a sharp about-face from earlier in the week. His attorneys in legal filings have previously said Trump would not be appearing in court because of the burden his security apparatus would place on the court. But on Tuesday, Trump said it was a " longstanding agreement" that took him to Ireland and kept him away from the trial. "Because we have a longstanding agreement to come here," Trump said. "We've had a tremendous reception, a beautiful reception. The people of Ireland have been great. And we have [had] tremendous success."
A reporter then asks, "But does it not show disrespect to the court?" and Trump walks away. (Trump is not required to appear in court as it's a civil proceeding, nor is Trump required to testify.)
When asked about Trump's imminent return to New York, his attorney was concise: "No," Tacopina said when asked by New York Daily News.
On Wednesday, Trump's legal team told the court they would not be calling any witnesses, including the former president. And the other anticipated witness, a psychiatrist, will no longer come, the New York Daily News reported. The case is expected to go to the jury by the end of the week or early next week.