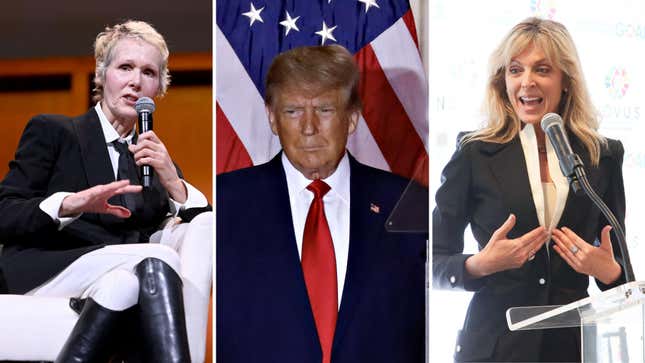 In a newly unsealed excerpt from an October 2022 deposition, former president Donald Trump mistook journalist E. Jean Carroll, a woman who he once claimed he couldn't have sexually assaulted because she's not his "type," with his ex-wife, Marla Maples.

Ted Cruz Won't Commit to Pleasuring a Man to End World Hunger
"That's Marla, yeah," Trump said, when shown a photograph of Carroll during the filmed deposition. "That's my wife." An attorney for the accused rapist corrected his mistake for him, the Guardian notes. Unfortunately, the mistake—inevitable for a man whose rape allegations are now well into the double digits—isn't the only egregious part of his testimony.

The deposition is part of an ongoing battery and intentional infliction of emotional distress lawsuit Carroll filed against Trump in September 2022, following the passage of the Adult Survivors Act, which instituted a "lookback window" for survivors over the age of 18 to sue their abusers, regardless of when a sexual assault occurred.
Since 2019, Carroll has publicly alleged that Trump sexually assaulted her in a changing room of Bergdorf Goodman in the mid-199os. However, given the New York state law statute of limitations, Carroll was unable to seek legal retribution until last year. Notably, Trump has repeatedly denied the allegations and asserted that Carroll is "totally lying."
Carroll testified about the alleged assault in her own deposition in October: "It's all one action," she said. "I stepped into the room, the door was banged closed and he pushed me up against the wall."
In another excerpt from Trump's deposition, he described Carroll as a "nutjob" and "mentally sick" and claimed that she lied about the alleged assault in a bid to drum up publicity for her "really crummy book," What Do We Need Men For?: A Modest Proposal.
"I will sue her after this is over, and that's the thing I really look forward to doing," Trump told Carroll's attorney. "And I'll sue you, too."
The former president also falsely claimed that Carroll said rape was "sexy" in a way that implied she enjoyed it, referencing an interview she'd done with CNN's Anderson Cooper. Rape, she said, was not the term she preferred to use in reference to the assault, as she believed some people thought rape "to be sexy."
"I didn't think of it as rape," she said during the sit-down. "I thought of it as a violent incident. I thought of it as a fight. And I'll tell you how stupid…I thought I won because I got out."
During Trump's deposition, Carroll's lawyer asked if she was implying that she loved being sexually assaulted by him. He replied: "Well, based on her interview with Anderson Cooper, I believe that's what took place. And we can define that...I think she said that rape was sexy–which it's not, by the way."
No part of deposition arrives as a surprise—least of all confusing women who've accused him of rape with ex-wives—given at least one of them has said on the record that he raped her. In a sworn deposition in 1989, first wife, Ivana Trump, alleged that while they were married, he ripped out of "fistfuls" of her hair from her scalp during intercourse. Four years later, she publicly retracted the word "rape."
"On one occasion during 1989, Mr. Trump and I had marital relations in which he behaved very differently toward me than he had during our marriage," she said. "As a woman, I felt violated, as the love and tenderness, which he normally exhibited towards me, was absent. I referred to this as a 'rape', but I do not want my words to be interpreted in a literal or criminal sense."
Carroll's rape accusation is due to go to trial in April.