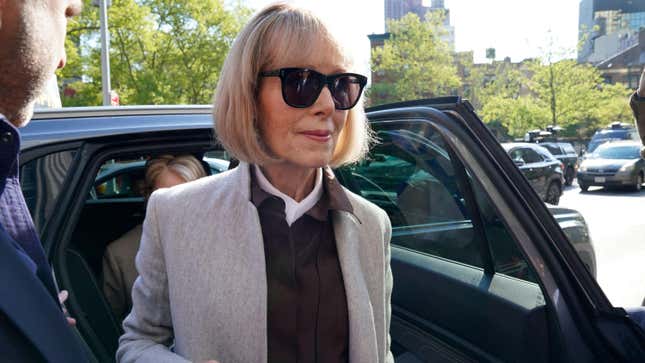 Writer E. Jean Carroll's sexual assault allegations against former President Donald Trump, 76, are finally in court as jury selection began in federal court in Manhattan on Tuesday. Carroll, 79, alleges that the former president attacked and sexually assaulted her in a Bergdorf Goodman dressing room in 1995 or 1996.

Infamously Thin-Skinned Man Joins Twitter's Board
Carroll's lawsuit alleges that Trump attacked Carroll, then 52, inside a lingerie department dressing room, where he pulled down her tights. "Trump opened his overcoat and unzipped his pants. Trump then pushed his fingers around Carroll's genitals and forced his penis inside of her," the lawsuit read. In 2019 Trump released a statement saying this "never happened," that Carroll is "not my type," and that he "never met this person in my life."
But this is not a criminal case. This civil lawsuit stemming from an incident in the 1990s is possible because New York's Adult Survivors Act opened a one-year lookback window for people to bring civil lawsuits against their alleged attackers if the statute of limitations has run out. Carroll filed her lawsuit on Thanksgiving 2022. As a part of the lawsuit, Carroll is seeking unspecified damages as well as the retraction of a social media post made by Trump in October 2022.
Trump's attorney Alina Habba told the Associated Press that Trump maintains his innocence. "While I respect and admire individuals that come forward, this case is unfortunately an abuse of the purpose of this Act which creates a terrible precedent and runs the risk of delegitimizing the credibility of actual victims," Habba said.
Politico reported that there's been no discussions of out-of-court settlements at this time. If Carroll's legal team prevails, this would be the first time Trump is held to any degree of legal responsibility for a sexual assault. He has been accused of sexual harassment or sexual assault by at least 18 women.
Trump is not expected to be in court unless he's called to testify, CNN reported on Tuesday, but it's expected that part of his video deposition will be played. Again this is a civil lawsuit so he doesn't have to come. Carroll is expected to testify. The jury will be anonymous to the public and lawyers for both sides.
Another way this trial will be different is the venue. Since this trial is in federal court, they'll be no Law&Crime Network YouTube livestream a la Gwyneth Paltrow's ski trial. It's not insidious; federal courts just don't believe in technology in the room. (This lack of transparency in federal courts is a separate issue for another time.) But maybe we'll get a good courtroom sketch artist.

It's now up to a jury to see if Carroll's allegations are—what Trump called— "a complete con job" or another example of how the MeToo movement has bred an environment that finally allows survivors to obtain some kind of justice.