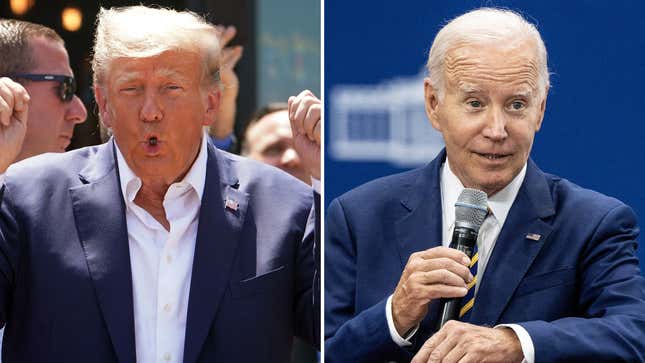 Former President Donald Trump has a little rhetorical problem on his hands. During the 2020 campaign, Trump painted Joe Biden as "Sleepy Joe," an ailing old guy camped in his basement due to covid who was barely aware of what was happening. But Sleepy Joe Biden beat him in embarrassing fashion, and Trump now faces four separate criminal indictments that could, uh, complicate his path back to the White House.
GOP Congressman Spent His Sunday Daring Biden to 'Come and Get' His Guns
It appears Trump is trying to change course—and, importantly, change the subject—in social media posts and interviews by "depict[ing] his successor as a nefarious mastermind who is pulling the strings of a complex justice system without leaving any fingerprints," per NBC News. And he's dusting off an old nickname: Crooked.
"He's a corrupt person. So corrupt that I took the name off Hillary," Trump told Tucker Carlson in a recent interview, which he did instead of attending the GOP debate. "I took the Crooked Hillary and I made it, I retired the name. That was a good day for her. I bet she was very happy. And I used it for Joe because it's Crooked Joe."
Trump is claiming—without evidence—that Biden is weaponizing the Department of Justice and Federal Bureau of Investigation against him; he said on Truth Social that it was "Election Interference," adding, "Crooked Joe pushed this litigation hard to get it done." To summarize: a man who Trump screamed about not being fit for office a few years ago is now with it enough to secretly manipulate federal agents and prosecutors in multiple states.
Which is it Don, is Biden a merciless genius or a dementia-riddled grandpa? It seems like Trump doesn't even know yet. Predictably, Trump is having a little trouble staying on his new, nonsensical message. In that same interview with the fired Fox News host, Trump questioned if Biden would make it to the general election, and said he was in terrible physical shape, outdone only by his awful mental capacity. "Crooked Joe Biden is so bad...I don't think he's going to make it to the gate, but you never know," he said. "I think he's worse mentally than he is physically. And physically, he's not exactly a triathlete or any kind of an athlete. You look at him, he can't walk to the helicopter. He walks—he can't lift his feet out of the grass."
So, since Trump's ultimate goal is deflection and confusion to depress voter turnout, from now until November 2024, you're going to hear all the Republican commentators claim that Biden is corrupt—since they want people to think both candidates are bad so they just won't bother voting at all. If people who voted for Biden in 2020 stay home in 2024 and there's a third-party candidate on the ballot in enough states, Trump could once again win the presidency while losing the popular vote.
A spokesperson for the Biden campaign told NBC News that Trump is running on the same losing agenda from 2020 and a new nickname does nothing to change that. "These are the same type of projections we've seen before from the person who led one of the most corrupt administrations in history," Kevin Munoz said. "Donald Trump may come up with a lot of nicknames for President Biden, but we have a better one: winner."
In other words, don't fall for this nonsense. Instead, call it out for what it is: A half-assed attempt to characterize Biden as no better than Trump when it's extremely clear this isn't the case.