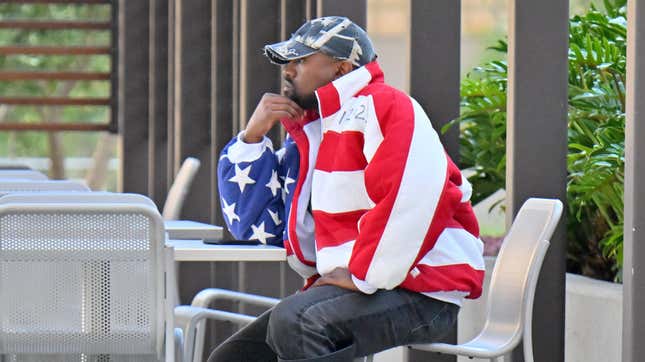 A forthcoming BBC documentary entitled The Trouble With KanYe reportedly includes a new host of allegations against the rapper-turned-entrepreneur, including further revelations of his antisemitism.
Watch Alex Jones Realize He's About to Get Busted For Perjury
On Wednesday, the Guardian published a preview of the film, including segments featuring Alex Klein, a tech entrepreneur who worked with West from 2019 to 2022, who describes bigoted tirades and unsettling behavior from his former boss. Klein stopped collaborating with West following the rapper's public praise of Hitler last year. Klein's decision, he said, prompted West to verbally attack him.
"He was saying, 'I feel like I wanna smack you' and, 'You're exactly like the other Jews'—almost relishing and reveling in how offensive he could be," Klein recalls in The Trouble with KanYe, according to the Guardian. "I asked him: 'Do you really think Jews are working together to hold you back?' and he said, 'Yes, yes I do.'"

Klein asserts that West's loud and proud antisemitism is indeed a political strategy and that the public's attention after he praised Hitler—even if most of it was denunciations—was enough evidence for West that it was working. According to Klein's recollections, West said his remark was "not even a statement that I need to take back because look at all the energy around me right now. Without that statement, I wouldn't become president."
Perhaps the most concerning claim from Klein in the documentary is that West intends to pursue his political aspirations by any means necessary, because he believes it's his "manifest destiny, his God-chosen destiny" to be elected president.
"He used these anti-Jewish statements as part of a political platform and he told me that he was attempting to do what Trump did in a more intense way," Klein says. He reportedly later confirms that its West's goal to "supersize" Trump.

"The return of Kanye is inevitable and I think it's important to shed light on the situation," Klein says. "This demon in the box that he's playing with for his own benefit is irresponsible. The conversation has become, 'Oh, it's his mental health,' and, 'Oh, maybe a few Jewish people screwed him over.' It's like: no. Kanye needs to be taken seriously."
The film also discusses West allegedly asking a homeless man who attended the same church he does to manage his presidential campaign. The man, identified as Mark, lives in his car and reportedly told the filmmakers that he met West at Cornerstone Christian Church. (The Guardian notes that Cornerstone is also where Nick Fuentes, a known white nationalist, convenes political meetings.)
"They all said I was the most religiously erudite in the room and Kanye started looking to me for my opinion on every topic that came up," Mark explains. "He called me the following Monday, the Monday before Thanksgiving, and the first thing he said to me was, 'I want you to be my campaign manager to run for president.'"
Finally, a Cornerstone pastor tells the filmmakers that West bought part of the property, and shows a room outfitted with mood boards of new Yeezy brand designs and sewing machines with workers toiling away. West, he says, has "big plans."
Currently, West is embroiled in a number of lawsuits—including one against the school he founded for racial discrimination and unusual conditions, and another for using a photograph without permission to bully a Vogue editor on Instagram. Lately though, he seems unfazed. Last month, he was photographed enjoying a day out with his wife and a bizarre collection of people who could very well be extras on The Idol, and he recently threw himself lavish birthday party.