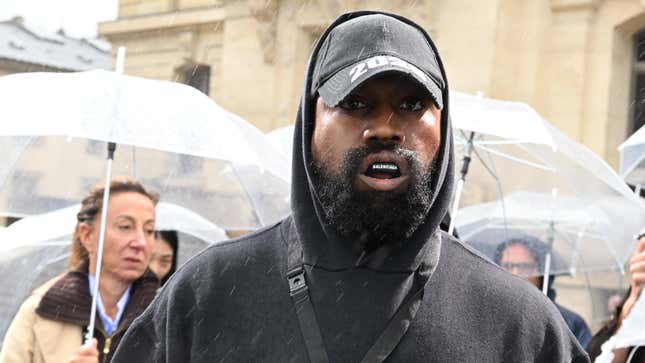 Two former teachers at Kanye West's Donda Academy filed a lawsuit this week claiming the rapper and his private, Christian K-12 school "violated education, health and safety codes, terminated educators based on race and retaliation, and failed to fully pay teachers."
Watch Alex Jones Realize He's About to Get Busted For Perjury
Cecilia Hailey and Chekarey Byers, who are identified as the school's only two Black women teachers, claim they were fired after they expressed a litany of concerns over the terrible conditions at the school and the students' safety to administrators. Their lawsuit also details several "unusual rules and restrictions" at the school under West's leadership. Per Billboard:
They include not allowing common items such as crossword puzzles, coloring sheets, eating utensils, colorful clothing, dinnerware, jewelry, chairs and Nike or Adidas branded clothing. Students were also allegedly not allowed on the second floor of the school because West was "reportedly afraid of stairs" and also not allowed outside, instead forced to spend their lunch/recess time indoors.
The allegations range from quirky and bizarre to quite serious and concerning. The plaintiffs say students weren't permitted to bring food from their homes, only water—yet the only meal available at the school was sushi (which they had to eat on the floor as Ye didn't allow chairs). They claim that there was no school nurse or janitor, that administrators didn't intervene in instances of "severe bullying" that included physical violence, and that Ye "did not believe in cleaning products containing chemicals, so teachers were only allowed to clean with acid water and microfiber cloths."
In an interview with Page Six, Hailey also claimed that Ye banned books on Black history, including The Lost Boys of Sudan by Mark Bixler, which tells the story of four victims of the Sudanese conflict. "Kanye didn't want anything to do with a lot of black history books," she told the tabloid.
Hailey and Byers claim in the lawsuit that they were subject to stereotyping and "coded language" from school administrators. When they expressed concerns about the students, who weren't ever allowed to go outside even for recess, they say they were called "aggressive," warned not to bring anything up with West, and subjected to "stereotypes about African-American women as being confrontational simply for doing their job and voicing their legitimate concerns."
Both teachers also allege that their paychecks were "untimely or inaccurate;" some never arrived, while others were short up to $2,700. When the school terminated them last month, they say they were given no explanation as to why—though it seemed to be in retaliation for them trying to address the poor conditions there. "No action was taken to remedy plaintiffs' complaints regarding sanitation, health, safety or education standard pursuant to local and state law, which plaintiffs made throughout the entirety of their employment," the suit states. West's attorney, Greg K. Nelson, and representatives from Donda Academy did not respond to Jezebel's request for comment.
The legal action arrives just months after Rolling Stone reported that parents who enrolled their children in the unaccredited school (with a $15,000 annual tuition) were required to sign NDAs, dubiously deemed "informal agreements."
"We're standing up because it's the right thing to do," Hailey said in a statement. "This is not about trying to defame a celebrity. This is about the right thing to do for these children."

"While his vision for the school sounds great on paper, it's just pure chaos and mutiny," Byers said via her lawyer. "It's like a mental hospital being run by the patients."