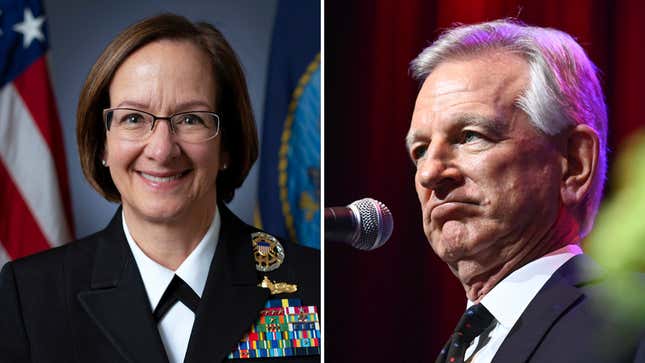 Sen. Tommy Tuberville's (R-Ala.) relentless crusade against one (1) travel policy instituted by the Defense Department has met another casualty. A third branch of the U.S. military is without a confirmed replacement as we enter the fifth month of Tuberville's blockade of military appointments.
The Filibuster is Standing in the Way of Abortion Access
Admiral Lisa Franchetti was set to be the first woman to run the U.S. Navy—but her historic confirmation won't happen now, as the former college football coach is holding up more than 300 military confirmations over the Pentagon's policy to reimburse members and dependents for travel costs associated with abortion care. This policy was instituted after the Supreme Court overturned Roe v. Wade so that military members forced to live in states hostile to abortion could still access care.
Franchetti—who would also have been the first woman to join the Joint Chiefs of Staff—instead joins the still-to-be-confirmed leaders of the Marine Corps and Army as an interim leader of the high seas. Just over a week ago, the head of the Army stepped down. Before that, the Marine Corps commandant retired, leaving the branch officially leaderless for the first time since before the Civil War.
These high-level military leaders as well as hundreds of other leadership positions are in jeopardy because Tuberville is objecting to the use of unanimous consent to confirm military promotions en masse. This maneuver is used to for uncontroversial moves, like batch approving military promotions, because the Senate's byzantine processes take too long to do up-and-down votes of 300-plus people. But because unanimous consent only needs one squeaky wheel or senator to upend the entire process, it's the easiest place for Tuberville to stage his anti-abortion crusade.
Congress is currently on recess until Sept. 5, so honestly there's plenty of time for more members of the Joint Chiefs of Staff to step down. Just add them to the list of federal employees being affected by Tuberville's idiocy.