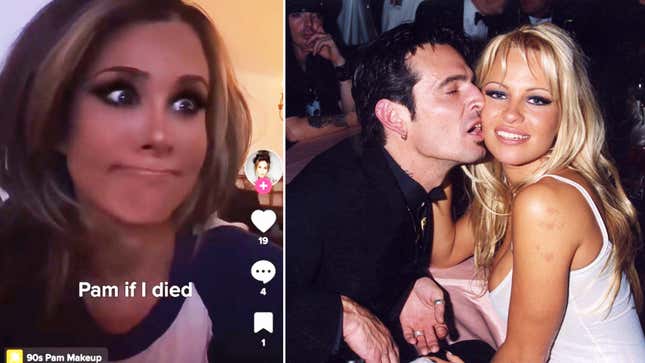 Tommy Lee's wife, former Vine star Brittany Furlan, appeared to mock Lee's ex-wife, Pamela Anderson, in a TikTok on Thursday, using a "90s Pam Makeup" filter and captioning it "Pam if I died." In the video, she utters, "Oh… oh," and makes other sounds in an aggressively disinterested manner. "Pls guys I gotta make jokes it's how I cope," she captioned the TikTok, with a laughing emoji. To cope with what, exactly, isn't immediately clear!

Jennifer Aydin Had Women DMing Her After Relatable Cheating Scandal
Furlan's TikTok comes amid the glorious ongoing Pam-aissance, spurred by the release of Netflix's documentary Pamela: a love story and Anderson's memoir, Love, Pamela. Mocking and imitating Anderson for no real reason, as Anderson publicly opens up about the trauma and harassment inflicted on her throughout years of objectification and exploitation, is really a choice! But, fret not, plenty of TikTok users pointed this out in Furlan's comment section, reminding her that Anderson's said she "respects [Lee and Furlan's] marriage and she's happy that he's happy" and "had nothing but nice things to say." Again, I must ask: Cope with what, Ms. Furlan?
Other commenters pointed out that it's "interesting," to say the least, that of all the revelations Anderson offers in her documentary and memoir that "this is [Furlan's] reaction." How is she possibly making Anderson's story about herself?
Unsurprisingly, Furlan appeared to delete the TikTok by Friday, but it's still watchable since it's been stitched in other TikToks—most of which predictably roast it and call Furlan "disrespectful."
Furlan's "jokes" and apparent need to "cope" come shortly after the story of Anderson and Lee's infamous 1990s sex tape was propelled back into the spotlight by Hulu's limited series, Pam and Tommy, starring Lily James and Sebastian Stan. Anderson has talked about the fact that the show was created without her permission and that hearing about it has been a retraumatizing experience for her.
But Anderson has been able to reclaim and take ownership of her story with her newly released Netflix documentary and memoir. She's acknowledged that Lee and Furlan might find her memoir "annoying," and has said her relationship with Lee is the only time in her life in which she was "ever truly in love." But in varying interviews promoting these projects, she's spoken of Lee and Furlan's marriage only with respect.
Notably, in Furlan's TikTok, even Lee, in the background, appears simply… confused and disinterested in being a part of it. And, same, frankly! If only Vine hadn't been unceremoniously dissolved in 2016—Furlan could return there and leave us (and Pam!) in peace.