It's September which means daytime talk is back! And what a premiere day it was. As children frolicked to school through air that had just a hint of fall's crispness to it, parents turned their television sets on to bask in brand new footage of Women Getting Real. If you were an alien life force who got your first and last chance to figure out what the human race was about on Monday September 9, 2013, you would think Women Getting Real was about the most boring thing ever.
Over at Bethenny, Bethenny Frankel celebrated her full season talk show pickup with a roster of entirely male guests. After dancing to her horrible theme song "Calling All My Girls", Frankel asked a panel of men their opinions on various "women's" issues and prompted her largely female audience to raise their hands and acknowledge whether or not they watch porn (some brave souls did). "I'm known for being honest, straightforward and unfiltered," Frankel promised us for the thousandth time, while making no mention of her acrimonious divorce in the montage recapping the past few years of her life (was poor and struggling; became a Real Housewife; befriended Ellen). She also had some zexy moments with the zesty guy and Salt N Pepa did not perform, as I thought they would after misreading my emails. This was a huge disappointment given that today's musical guest was in fact Flo Rida.
Also sad: Katie Couric thought that she hadn't managed convince her new fiance to come on her show's premiere because he is (according to Katie) "shy" so she flashed her rock and humble-bragged her own engagement, explaining that it's relevant to bring it up because "People have...said that I've given them hope that other people my age can actually go out there and find somebody great." Then at the end he came up and said hey briefly. Adorbs.
G/O Media may get a commission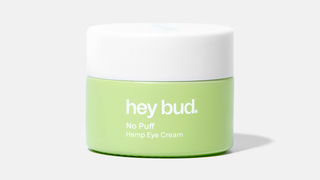 15% off
Hey Bud - No Puff Hemp Eye Cream
Katie decided to use the extra time not devoted to talking about her personal life to conduct an amazing interview with Lil Wayne, a follow-up to her amazing 2009 interview with the rapper. Wayne explained that his scary seizures came from a pain medication he was on and also provided further sad anecdotes about his childhood, saying that his mother was so worried about his safety at his New Orleans public school that she bought him a gun to bring to school to protect himself. But as usual, Lil Wayne's fun-loving spirit could not be dampened by any depressing topics; when Katie asked him if the men in prison were excited to see him, Wayne responded "It's jail."
Continuing the journalistic standards we're accustomed to seeing from her, Jenny McCarthy interviewed boyfriend Donny Wahlberg on The View today and came off like a clingy crazy person. You can read a more lengthy recap of the premiere here; it was boring and almost made me yearn for the days of Elisabeth Hasselbeck.
Leah Remini joined Ellen to discuss why she left Scientology, revealing absolutely no juicy details but explaining that because of the way that religion/cult works, she and her family have lost lots of friends they've have "for dozens and dozens of years" because once you go Scientology, you don't go back for fear of being smited. Also Ellen is a germaphobe who doesn't like drinking from the same Scientology-infested cup as her guests.
And last but never least, Steve Harvey got us excited for his show's premiere next week when he stopped by Hoda and Kathie Lee to explain how necessary his politically incorrect voice is in the predominantly female-hosted daytime talk landscape. "Here's the deal: I have an opinion," said Harvey. "The fact that it's not the same as yours, that should be okay. And I shouldn't be afraid to say what I think because it's not politically correct or it's not okay to say as a celebrity." Act Like a Lady, Think Like a Man (If That Man Is Steve Harvey) is what the book should have been called.