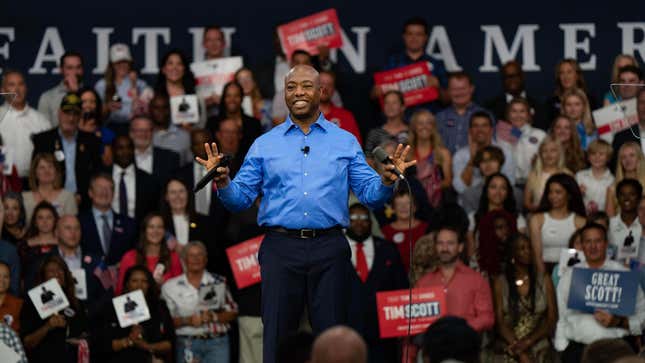 It appears some Republican donors are concerned that presidential candidate Sen. Tim Scott (R-S.C.) is a 57-year-old bachelor—and whatever that fact may imply.
Axios reports that top donors are pressing Scott's campaign for more details about the fact that he's never been married before they decide how much weight to throw behind him. Scott doesn't talk much about his romantic life, and that reluctance has "raised concerns" among some donors who are looking for a viable alternative to the quadruply-indicted Donald Trump as Florida Gov. Ron DeSantis (R) flounders on the campaign trail.
The last time voters elected an unmarried president was Grover Cleveland in 1884. One source familiar with the concerns of the GOP donors suggested to Axios that a candidate being single is a bigger problem for Republicans than Democrats. "[New Jersey Sen.] Cory Booker went through the same thing running for president in 2020 and it seems to not have been a problem for him—but maybe that's more normal for Democrats," they said. (But other reporters said the issue did come up for Booker, even though he was dating actress Rosario Dawson at the time.)
A senior official with the campaign told Axios that Scott will be talking about his relationship status in the coming weeks.
Scott is an Evangelical Christian who preaches abstinence until marriage and made his virginity a big part of his public persona—until he admitted to a reporter at age 46 that he was no longer a virgin. In an interview earlier this year, Scott said he had a girlfriend, but kept her identity private. He also said it was outdated to judge a presidential candidate on their marital status. "The fact that half of America's adult population is single for the first time, to suggest that somehow being married or not married is going to be the determining factor of whether you're a good president or not—it sounds like we're living in 1963 and not 2023," he said.
I definitely agree, but, my guy, you're seeking the support of Evangelical voters and conservative activist groups in Iowa and beyond who may not feel the same way because they revere marriage and procreation. Axios said potential donors have been told about Scott's girlfriend and his views on marriage as a litmus test and, for some, it's "only fueled their curiosity and apprehension."
It seems like the unspoken subtext here is that some donors could also be worried that Scott is gay. There is no evidence that he is, but it's an understatement that an LGBTQ candidate would probably not go over well with Republican base voters.
I guess now we wait and see what Scott himself has to say about all this, and please god I hope it's not a sex life overshare like Rep. Nancy Mace (R-S.C.) did at a prayer breakfast he hosted last month.