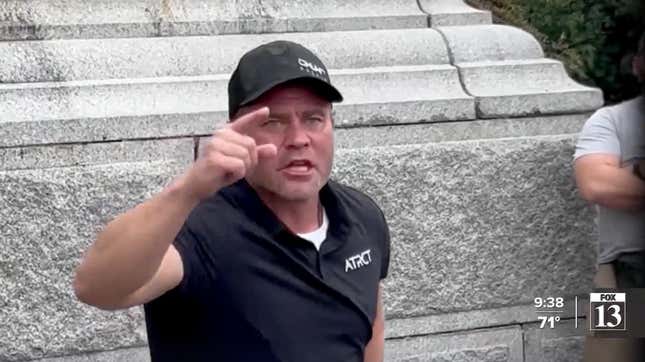 Tim Ballard, the self-styled anti-trafficking activist and subject of a fictionalized cinematic account of one of his rescue campaigns, Sound of Freedom, was investigated for sexual misconduct before he left the organization he founded, Operation Underground Railroad, according to a new report from Vice. The outlet had previously reported his departure, which happened June 22—a little less than two weeks before Sound of Freedom would land in theaters and become a box office hit—but the precipitating circumstances were then unknown.

The claims of sexual misconduct involved seven women, according to Vice. Ballard, according to Vice's anonymous sources, "invited women to act as his 'wife' on undercover overseas missions ostensibly aimed at rescuing victims of sex trafficking. He would then allegedly coerce those women into sharing a bed or showering together, claiming that it was necessary to fool traffickers." Ballard reportedly also sent a woman a photo of himself in his underwear and asked another "how far she was willing to go" to save children.
Last week, Vice reported that it had received word from the Church of Jesus Christ of Latter-day Saints denouncing Ballard, a Mormon, for "unauthorized use" of Mormon official M. Russell Ballard's name (no relation) for "Tim Ballard's personal advantage and activity regarded as morally unacceptable." In a public rant, Ballard responded saying that he "truly" didn't believe that the church had put out such a statement. "Something evil is going on. I don't know who's behind it yet," he said.
"You know Vice magazine? Vice? Do you think the church would make a statement to Vice?" he added. Multiple news outlets outside of Vice, including Salt Lake City's Fox 13, confirmed the veracity of the statement.
"I'm a bad guy in the story that rescued over 7,000 women and children, can you help me understand that?" he said. It's unclear whether the figure of 7,000 he cited include people he supposedly "rescued" from being trafficked that were subsequently released when local organizations didn't have the capacity to process them and keep them off the streets, as detailed in this narrative account of an Operation Underground Railroad jump published in Slate in 2021. The organization's tactics have been repeatedly called into question.
The video of Ballard responding to the LDS condemnation ends with him ranting about the media coming down on him as he's trending—he starts bragging about the success of Sound of Freedom in Latin America and the U.S., and then the video cuts off. It's perfect editing.
Ballard did not respond to Vice or Jezebel's requests for comment on the newly reported sexual misconduct allegations.
Sound of Freedom struck many of us as an overly slick, QAnon-adjacent vanity project centering a guy who really loves calling himself an activist and smiling into his cameras as he's supposedly ending human trafficking. It didn't smell right to some, and those who dared to say that in public dealt with online harassment from those who had succumbed to its charms. With the news of the investigation into Ballard, which described behavior that is antithetical to the morals that Ballard has projected so successfully, we may be near putting a finger on why Sound of Freedom's propaganda seemed to be protesting too much.
Oh, by the way, Ballard has said that he's considering running for the Senate seat that Mitt Romney is vacating.
In response to Vice's inquiry to Operation Underground Railroad (OUR) regarding the sexual misconduct investigation, the organization sent this statement:
Tim Ballard resigned from O.U.R. on June 22, 2023. He has permanently separated from O.U.R.

O.U.R. is dedicated to combatting sexual abuse, and does not tolerate sexual harassment or discrimination by anyone in its organization.

O.U.R. retained an independent law firm to conduct a comprehensive investigation of all relevant allegations, and O.U.R. continues to assess and improve the governance of the organization and protocols for its operations.

To preserve the integrity of its investigation and to protect the privacy of all persons involved, O.U.R. will not make any further public comment at this time.

O.U.R. is confident in its future as the leading organization committed to combatting sex trafficking and saving children who have been captured and sold into slavery.
---
Update (September 19, 2:32 p.m.): On Tuesday, the SPEAR Fund, the anti-trafficking organization Ballard is now affiliated with as a senior advisor, sent out a press release with the subject: "Tim Ballard Issues Statement Debunking Baseless Sexual Allegations." Ballard is quoted within:

As with all of the assaults on my character and integrity over many years, the latest tabloid-driven sexual allegations are false. They are baseless inventions designed to destroy me and the movement we have built to end the trafficking and exploitation of vulnerable children.

During my time at O.U.R., I designed strict guidelines for myself and our operators in the field. Sexual contact was prohibited, and I led by example. Given our meticulous attention to this issue, any suggestion of inappropriate sexual contact is categorically false.
He did not address his departure from OUR or whether the sexual misconduct investigation precipitated it.
In other Ballard-adjacent news, Vice published a story on Tuesday about Sound of Freedom executive producer Paul Hutchinson, who reportedly "touched the naked breasts of an apparently underage trafficking victim during a 2016 undercover operation in Cabo San Lucas, Mexico." Video of the incident was recorded by videographers from OUR, which Hutchinson worked with as a fundraiser and operative before he says he split ways with Ballard. Hutchinson countered the reporting to Vice, claiming in part, "I have a sworn affidavit by the federal police saying she was over 18."
In a statement, OUR responded to the report on Hutchinson. The statement begins: "These allegations have been raised previously, written about by Vice and thoroughly investigated by the Davis County District Attorney. That investigation concluded without the filing of any charges."