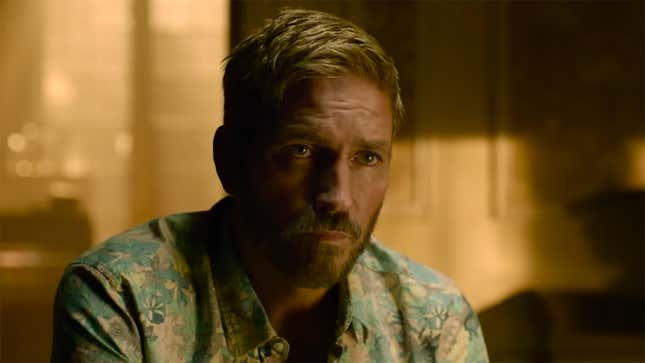 "Never trust a pedophile!" doesn't quite have the ring of, "I'll be back," or, "Yippee-ki-yay, motherfucker," but it suffices as a one-liner in Alejandro Monteverde's child-trafficking action flick Sound of Freedom (out now). It's said by Jim Caviezel, playing real-life anti-trafficking activist Tim Ballard, in the same sandpaper whisper that actors often don to play Batman (with some Liam Neeson in Taken sprinkled in for flavor). The role actually gives Caviezel the opportunity to spout several extremely self-serious one-liners, like when he explains why he's in the line of work that he is: "Because God's children are not for sale." Or when he tearfully recites: "Over two million children a year are being sucked into the deepest recesses of hell." At last, QAnon's camp appeal gets the cinematic exploration it demands.

A few qualifications upfront: The exploitation of children is a real problem that no one (besides the exploiters) wants. Ballard has testified at a House Foreign Affairs Subcommittee and shared footage of the sting operation portrayed in Sound of Freedom with the media (some of that footage also plays during the final moments of the movie). He was appointed to the Public-Private Partnership Advisory Council to End Human Trafficking by Donald Trump in 2019 (the council was terminated in 2020).
However, the legitimacy of Ballard's organization, Operation Underground Railroad, its claims of heroic rescues of trafficking victims, and its methodology have been questioned and investigated by journalists. The organization has distanced itself from "conspiracy theory groups who have chosen to latch onto child exploitation and human trafficking as a vehicle to deceptively bolster their causes" (i.e. QAnon). That said, Ballard told the New York Times in 2020 that "some of these theories have allowed people to open their eyes," and therefore, "now it's our job to flood the space with real information so the facts can be shared." He tweeted that year, "With or without Wayfair, child trafficking is real and happening!!!" and in the attached video, claimed that "Children are sold that way" in reference to the Wayfair conspiracy theory positing the furniture company's catalog was a front for selling children who shared the names of its furniture.
And really, how distant can Ballard (and by extension his organization) be from QAnon when the guy who's playing him, with whom he's been promoting Sound of Freedom, has been using the press opportunity to peddle QAnon theories about adrenochrome and organ harvesting?
Sound of Freedom was finished back in 2018 (about two years after Pizzagate put QAnon into the public eye) but was shelved by Disney at the time. Now, it's getting an indie release as a "conservative" thriller with the hopes of breaking into the mainstream. In an interview with Steve Bannon from earlier this month, Caviezel went on at length about "the whole adrenochrome empire" as driving demand for trafficking. Though Caviezel didn't direct Freedom, he's treating it as a passion project, appearing in its trailer to speak directly to the camera about its importance. The movie also concludes with a similar speech from Caviezel after its credits run, in which he proclaims, "I think that we can make Sound of Freedom the Uncle Tom's Cabin of 21st century slavery." He directs people to a QR code on screen, urging them to donate to the movie's pay-it-forward program to provide tickets for people who are interested in seeing it but cannot afford it. The movie has received endorsements from Elon Musk and Ivanka Trump. It probably will come as no surprise that among Ballard's promotional rhetoric has been anti-trans sentiment. He claimed to the Daily Signal that trans ideology "foisted on children" is going to lead to "what the pedophiles have been asking for. If you can consent to that, guess what? What's more fluid than gender? Age." He also has blamed trafficking on Biden's border policy.
Hm, that's a lot of vested interest. Ballard portrays himself as a superhero (and the movie is happy to follow suit), who after a supposed (unverified) stint in the CIA, moved on to DHS and then quit that job because, per Sound of Freedom, he wasn't happy with the focus on merely hunting pedophiles and needed to literally save the children. In Sound of Freedom, Mira Sorvino, in what amounts to an extended cameo (which is still long enough to get the stink of this thing all over her), plays Ballard's wife who tells him, "OK, so you quit your job, and you go and rescue those kids." That's undoubtedly good for the soul, and, it turns out, the bank account: OUR raised $47.5 million in 2020, the most recent year for which such information is available—more than twice as much as it raised in 2019. Meanwhile, its effectiveness have been widely called into question, with some suggesting that its methods are largely theatrical, don't get to the wider systemic issues underpinning trafficking, and, in some cases, by insisting that traffickers procure them the youngest possible workers for undercover sting operations, create a demand for them, causing their trafficking. OUR denies these claims.
The Ballard in Sound of Freedom never misses. After arresting a California man who uploads child sex abuse material to a website, DHS special agent Ballard is able to convince him that he's on his side (and is in fact sexually attracted to children as well), releases him, and has him get to work on trafficking a child for Ballard. It's all a ruse so that Ballard can rescue the child, which he does. It turns out that child has a still-missing sister who was taken in the same operation, in which a former pageant queen, Katy-Giselle (Yessica Borroto), posed as a talent agent who was training kids for the entertainment world. And so Ballard travels to Colombia, where he gets in touch with an ex con who buys children and sets them free, going by the name of Vampiro (Bill Camp). Using his trafficking contacts, they convince Katy-Giselle and her crew to help them set up a "high-end sex hotel" on an island for pedophiles, which is, of course, then taken down in a coordinated raid. Once the bad guys are in cuffs, the children immediately brighten, talking and laughing, and clapping rhythmically. "Hear that? That's the sound of freedom," says Vampiro.
But the child that Ballard was looking for was not among the 54 saved, which plunges him further into the underground—into "unknown territory" under rebel control. There, a completely solo Ballard poses as a doctor with a cooler full of vaccines. He finally finds his target child and murders her abuser via a tastefully edited, PG-13-friendly sequence. I hate to spoil things, even movies that I'm not recommending, but it goes without saying that if this ending were unhappy, the movie wouldn't have a point of existing.
Any movie portraying exploitation of this sort runs the risk of effectively reiterating it, and Sound of Freedom contains queasy scenes that feature kids looking scared in beds, or posing quasi-provocatively for cameras. Ballard throws the kid he rescues in a van that speeds away, and the only thing that visually distinguishes this from a kidnapping is the implied virtue. The movie itself is well-acted, it looks expensive, and it moves at a rapid clip. I feel no urge to ever see it again, but I can't say I wasn't entertained in some way. Maybe "bemused" is a better word. But of course, this is tailored to go down easy. That's how propaganda works, and Caviezel's shameless begging at the end of the movie underlines a desperation to disseminate. The polish only makes Sound of Freedom's attempt to illustrate how a voguish cultural anxiety can be ameliorated if people would just be courageous enough to pursue it (or give money to those willing to pursue it) more insidious.