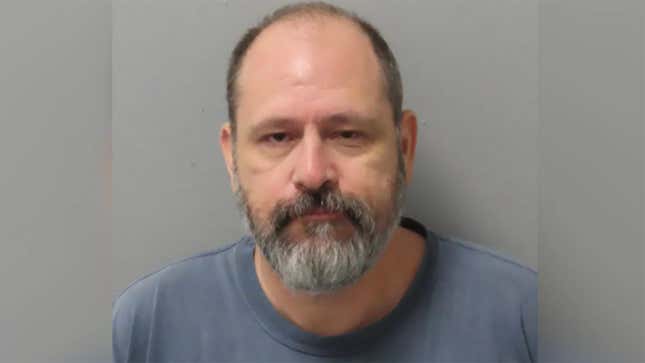 Alejandro Monteverde's Sound of Freedom has generated two things in excess: cash (its domestic box office haul since its July 3 release has topped $155 million) and controversy. One month out, it persists. In the time since the movie was released, news broke that the fantastical movie's real-life subject, Tim Ballard, left his anti-trafficking organization Operation Underground Railroad "after an internal investigation into claims made against him by multiple employees—something which OUR does not dispute," according to a Vice report. Details of his departure have yet to leak.
The latest thing to make you go hmmmm involving this movie and the people who helped bring it to the public is the recent arrest of Fabian Marta, who bragged about helping fund the movie after Disney shelved it. According to the Missouri Courts website, Marta was charged July 21 with accessory to child kidnapping, a felony. According to Newsweek, which published his mugshot, Marta was arrested on July 23. "A person commits the offense of child kidnapping if he or she is not a relative of the child within the third degree and, knowing he or she has no right to do so, removes a child under the age of fourteen without consent of the child's parents or guardian, or confines such child for a substantial period of time without such consent," is how the felony charge to which Marta is accused of being an accessory is defined on the Missouri Revisor of Statutes.
For weeks now, writer, podcaster, and per his Twitter name, anti-disinfo activist Jim Stewartson has been tweeting about Marta's association with "sugar daddy/baby" parties, as well as Marta's Facebook claims of helping bring Sound of Freedom to the screen after "Disney attempted to bury this movie." In a comment, Marta wrote: "I was aware of this early, the movie was filmed several years ago. As an Angel investor, I was able to be a financial partner. Early investors were credited at the end of the film."
Given Freedom star Jim Caviezel's open discussion of adrenochrome and organ harvesting on the press tour for Freedom (as well as Ballard's), this other development is hardly a surprise:
In fact, none of it is a surprise. Freedom cuts obvious narrative corners for the sake of crafting a sleek hero story for Ballard, who is able to slip in and out of various dangerous situations (sometimes single-handedly) in Colombia, pulling out trafficked children with ease and for glory. The truth is, of course, more complicated. OUR has been dogged with criticism over Ballard's mugging for cameras, accusations that his former organization has failed to provide aftercare to the rescued, its conflation of sex work with trafficking, and its avoidance of underlying structural issues that keep trafficking functioning and attractive to the morally askew, among other things. Freedom makes some wild claims that I've seen people repeating on TikTok with credulity, like, "Human trafficking is a $150 billion business," to which I say: I want to see the receipts.
After writing about the movie, I came across Meg Conley's 2021 Slate piece, in which the writer details accompanying Ballard and his former organization on a "jump" (trafficking rescue mission) in the Dominican Republic. Conley writes about her life being put in danger, the sloppiness of the mission, and perhaps most galling, what happened to the children that OUR's cameras captured the supposed rescue of:
I was told two of the children had been trafficked for the first time that day. It didn't seem to occur to anyone that OUR may have created a demand. After the sting, I asked people on the jump team where the 26 kids were taken. I was given only vague answers. Aftercare wasn't really their focus, I was told, but they partnered with people who did it well.

I found out what really happened from a Foreign Policy report:

In 2014, after OUR's first operation in the Dominican Republic, a local organization called the National Council for Children and Adolescents quickly discovered it didn't have the capacity to handle the 26 girls rescued. They were released in less than a week.
There's more to the story than the neat little narrative you see onscreen. It will be extremely interesting whenever the details of Ballard's supposed resignation from OUR emerge. Not all heroes wear capes, and most people who tell you they're heroes aren't.
Correction: A previous version of this post stated that Marta was charged with kidnapping. He was charged with accessory to kidnapping. The post has been corrected to reflect the actual charge.