Welcome back to midweek madness. Brad & Angie news: They've split, except they haven't. He had a rendez-vous with Jen, or he didn't. He maybe drunk-dialed Jen, then had make-up sex with Angie. And! The purpose of the beard, revealed.
Ok!
"Yes! They're Together Again."
Brad Pitt and Jennifer Aniston "reunited" backstage at the Hope For Haiti Now telethon. Jen was talking with her old neighbors Cindy Crawford and Rande Gerber, when Brad walked up an joined in. "Though their exchanged seemed casual, friends say Jen's warm reception filled Brad with emotion, as he has been struggling for weeks with memories of his ex-wife and the future they might have had together." And! A "pal" says: "He's driving himself crazy with idea that breaking up with Jen was the biggest mistake of his life." Actually, the ones being driven crazy with the idea are the people who write this stuff! The pal continues: "He's obsessed with her. She seems to be all he thinks about all the time." Oh, and Brad was so concerned about looking good for Jen that he even considered shaving his beard before the telethon! By the way, Shiloh dresses like a dude because she and Brad are "best buds" and she "tries to emulate Daddy's style." Meanwhile, Maddox has a crush on Kim Kardashian (see image 7) and thinks she is the "hottest girl." The cover screams, "Kristen Talks To Ok!" — really? After you claimed she was engaged to Sparklevamp? Anyway, inside there's a short quote from Ms. Stewart…about Joan Jett. Finally: Sources say Britney Spears is depressed and not eating; the mag asks if she is "headed for a major meltdown"?
Grade: F ( Grizzly Adams)
G/O Media may get a commission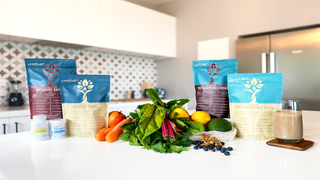 Life & Style
"Surgery Gone Wrong."
We appreciate that Brad and Angie (or Jen) are not on this cover. But instead, this story which is a compilation of other stories about Heidi Montag from the last 2 weeks, is a yawn. And the "new photos" are not new. Here's what else is inside: Brad and Jen "steered clear" of each other on camera at the telethon, and "some sources say that they never crossed paths." But! Other sources say they did. Ian Halperin, who wrote that unauthorized book about "Brangelina," says: "it's going to play out exactly like the Madonna split. When the reps denied it, and then months later, the couple announced the split. My sources inside the house say Brad and Angelina sleep in separate bedrooms. Romantically, there's no doubt they're over." Next: Justin Timberlake requested to present with Kate Hudson at the SAG awards, the lady whom he reportedly hooked up with — on more than one occasion — during his relationship with Jessica Biel. At the Hope For Haiti telethon, he was spotted "mingling" with Cameron Diaz. Later he went with Jessica Biel to a Radiohead show and they were seen making out. So. Jennifer Garner has dropped a few dress sizes. "She's a size 0 now," says an insider. "She used to be a 6." There's no word on whether this is bad or good. Lastly, words of wisdom from Brooke Hogan: "Whoever invented Photoshop was a genius. But it sets a bad example for what healthy is. We've gotten way out of hand."
Grade: F (Old Dutch)
In Touch
"How Jen Split Them."
This story was so inconsistent. The mag claims that Jennifer Aniston "came between" Brad and Angie, but then calls on that Waldorf-Astoria housekeeper, Anna Kowalski, who says of Brad and Angie: "I didn't even think they were pretending to be together. From what I have seen, they sleep in separate rooms, and behave like friends, not lovers." Or maybe they're not into making out in front of the housekeeper? Still, the mag claims that Brad and Jen "stole a few minutes together backstage" at the Hope For Haiti telethon. And then there's this: (Color commentary from us in bold)
After the show, the pair met up again, parking their cars next to each other in a secluded spot (LOL) — and having a heart-to-heart conversation during which their true feelings (LOL) emerged. "Brad went into Jen's car, and it was very romantic," hints a friend of Jennifer's, adding that the pair spent around 30 minutes "wrapped in each others' arms." After a brief stroll (in the parking lot?), Brad then escorted Jen back to her car and hugged her goodbye."
On the next page, there's a picture of Jen on a park bench, a picture of Brad on a different park bench, a picture of a random SUV and a picture of Shiloh and Zahara (see image 8), with a cockamamie story about how Jen met Brad and Shiloh one day in March in Central Perk Park — a landmark which hosts approximately twenty-five million visitors each year, and somehow we're JUST finding out about this. Also inside: Britney Spears has "less money, more problems." The captions on this picture (see image 9) of Brit coming from the gym are plain rude: "After working out at the gym, Britney didn't change her shirt." THE HORROR. The mag also says she looks "like a bum." Nice. Tom and Katie have reportedly spent about $3.2 million on clothes for Suri Cruise since her birth in 2006. For instance: Her pink ruffled dress was $1,130; her red ballet slippers were $128. Her polka dot heels were a bargain at $40. Next, Bradley Cooper is planning on proposing to Renee Zellweger, maybe on Valentine's Day — he was seen in a jewelry store! Relationship expert Jill Spiegel, who does not know these people, says since they both split from their spouses in less than six months "they could be repeating the same patterns… They could burn out fast."
Grade: D (Van Dyke)
Star
"Jen Tells Brad: 'I'll Take You Back!'"
Brad heard about Angelina's reported affair with her dialect coach (does he read In Touch?) and it was the last straw. When he got back to LA from New Orleans, he confronted her. They had a "knock-down, drag-out fight" and a friend says "Brad was in tears over it all. He couldn't stand to look at her." The mag writes: "He tore out of the house to think things over and drink the pain away." Sure he didn't storm off? Anyway he drove from LA to SF and had dinner and "threw back the booze for hours" before "he decided to turn to the one person who really knows his heart — Jen." A source says: "Around 3am, he broke down and dialed her number. He knew she would console him, like she always did when they were together. Jen calmed him down and told him she would be there for him, no matter what he's going through." After the Hope For Haiti benefit, "Brad and Jen had a coffee break." Is that a euphemism? "They were both smiling and staring at each other lovingly. Jen told Brad that the moment he and Angie make their breakup official, she's ready to try again." Also, Angelina allegedly gave all of her kids Asprey snake pendant necklaces and told them they would be safe as long as they wear them, "no matter what happens to Mommy and Daddy." Moving on. Lady Gaga had a "scary red line" on her arm at a concert in NYC. It looks like a curling iron burn, but Dr. Paul Jarrod Frank, who does not treat her, says it looks like it came from a razor blade or kitchen knife. Next: A friend says that Britney Spears and Jason Trawick are "100% broken up." She dumped him because he was reportedly seen with another chick. Jessica Simpson is dating Taylor Kitsch from Friday Night Lights (and also known for wearing a very small swim team uniform in The Covenant.) Blind item! "Which fame-hungry starlet and her hubby gift publishing people with $5000 Hermes bags to make sure they stay in the headlines? Don't worry, Star can't be bought." Our guesses? Heidi Montag… or the Kardashians. Pink and Carey Hart were on a romantic bike date and Carey was trying to show off for Pink, doing wheelies and tricks — when his shoelace got caught in the pedal and he fell down, with his bike on top of him. Once she made sure he was okay, Pink laughed hysterically. Zac Efron paid off both of his parents mortgages (they're married, but they live separately). Tiger Woods has been diagnosed as not just a sex addict but a LOVE addict. An "insider" says, "Love addicts keep people around for emotional validation." You know how the Times columnist declared that Courteney Cox was curvier than usual at the Golden Globes? Well, it's because she is 45 and pregnant, says Star. She's three months along and someone from Cougartown says she got IVF in November. Lastly: Kourtney Kardashian's ex is demanding a paternity test, because he thinks he's the father of Mason. Michael Girgenti says they had sex for an hour and describes the encounter thusly: "She was a wonderful lover and very beautiful. We didn't use any protection — she didn't ask me about it, and I was too caught up in the moment to think about it."
Grade: D (Klingon)
Us
"Brad's Misery."
Here's all you really need to know about Brad and Angie: "Is it over? For now, no." The mag also declares: " Brad and Jen reunite!" And then clarifies: "Well, sorta." The Hope for Haiti telethon was a "highly choreographed logistical dance" and Brad and Jen "almost came face to face." As for Angie and Brad: "they've been fighting more and more" and "they'll split eventually." She's a perfectionist and a control freak; he's laid back yadda yadda yadda. They have bitter fights and then hot make-up sex. In any case, Brad will soon begin pre-production for the film The Lost City Of Z, for which he grew his "much-maligned beard." In a sidebar, there are photographs of the Jolie-Pitt kids, with descriptors for each, (see image 10) and a source says of 18-month-old Vivienne: "She's a thinker." Moving on: Jessica Simpson was in a business meeting for her denim line when she farted loudly. Alicia Keys is "secretly engaged" to Swizz Beatz. Lastly: There's a Teen Mom update in the issue: Catelynn's engaged to Tyler; Amber is working at a tanning salon with flexible hours; Maci and Ryan have split for good — and Maci wants to write a book about being 16 and pregnant. As for Farrah, she wouldn't talk about her mother allegedly assaulting her, but says of baby Sophia: "She's started to talk. She says Hi and Mama."
Grade: D+ (Anchor)
From Ok!
From In Touch
From In Touch
From Us