Between Jen and Brad's sexting, multiple Jolie-Pitts who never materialized, and the Obamas' baby, this was an exciting year in the tabloids. Too bad those stories were totally fake! Let's take a look back at all "news" that never was.
In the fall OK!, the runt of the tabloid litter, decided to cash in on the anticipation for New Moon with full month of fake Kristen Stewart/Robert Pattinson covers. Basically an OK! scribe sat up all night with copies of the Twilight books and theorized that, to quote the September 2 issue, "Life might just imitate art." Though, the Twilight twosome aren't actually engaged or married, and we're pretty sure Kristen doesn't "read aloud from the volume of Virgil's Doomed Love that [Rob] gave her this year."
At one point, the mag actually declared "each stage of the twosome's love story mirrors Stephenie Meyer's cult vampire saga." A joke about Robert Pattinson delivering Kristen Stewart's vampire baby would be appropriate here, but OK! already told fans they should be on a "bump watch" because Kristen may soon be delivering a baby which, if all goes according to plan, will be named "Clules Pattinson."
G/O Media may get a commission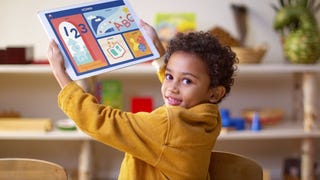 30-Day Free Trial
Homer Learn & Grow Program
KStew and RPatz weren't the only celebs to tie the knot (in the minds of tabloid editors). Jason Trawick proposed to Britney Spears in the Bahamas with a ring he bought in the gift shop of the Atlantis Resort & Casino. (If anyone can appreciate a glittery plastic ring with dolphins on it, it's Britney.) The mag said the wedding would take place this month in Louisiana, with Jamie Lynn as Brit's maid of honor and her boys as ring bearers. Britney and Jason better get cracking — they only have two more weeks to throw together their "old-fashioned Southern wedding." Hey, maybe they can get Reverend Sun Myoung Moon of South Korea to perform the ceremony over the internet, just like he did for Nicole Richie and Joel Madden!
Truthfully, living room nuptials were not what we dreamed of for Nicole and Joel, but at least their wedding was better than Chris Brown and Rihanna's sexy domestic violence-themed wedding. Yes, Star actually tried to make Chris assaulting Rihanna sound romantic with lines like, "He tenderly wiped [her tears] away and kissed her face, which was still slightly bruised. He just kept whispering, 'I'm sorry, I'm sorry.'" Thank god their beach wedding only took place in the pages of Star.
Several stars walked past the newsstands this year and were surprised to learn that their marriages were crumbling. The only source in this story about Sarah and Todd Palin's divorce was Mercede Johnston, Levi's 17-year-old sister. After all, who understands the inner workings of their marriage better than the teenage sister of their daughter's ex-boyfriend?
Sarah Jessica Parker and Matthew Broderick split too, and James "Wilke" (whose name is actually spelled "Wilkie") was caught in the middle... right between his two new baby sisters.
But, no one split more this year than Brad Pitt and Angelina Jolie. It seems Brad has only one method of transportation: storming off. While regular men might ride their motorcycle or go to their movie premiere, Brad can only "storm off" on his bike or "storm off" to the San Sebastian International Film Festival.
This year Brangelina started living in opposite ends of their French mansion, because it wasn't enough to just sleep in different bedrooms. There was one good thing that came out of their sparring. In Touch claims that Brad and Angie felt so guilty about their "crumbling relationship" that they spoiled the kids with theme days. All the Jolie-Pitts would dress up as characters from movies or books like James Bond or Harry Potter. We could probably tolerate Brangie's bickering if we got to have a "Wizard Day" with Maddox, Pax, Zahara, and Shiloh involving "magic potion punch to drink, and they had to solve clues to go to wizard college."
The only person Brad could vent to about he and Angelina's various "fights to end all fights" was, of course, the woman he humiliated and left for Angie. Jennifer Aniston had plenty of time to devote to Brad, since all she's done in the past five years is sit around and think about how she's "so lonely." Brad and Jen kept their love alive via text messages and drunk dials this year, and even managed to sneak past the paparazzi on numerous occasions to hook up in hotels or just take a leisurely two hour drive around New York City. Mostly they talked about what a handful Angie is, but Brad also provided beauty advice. Jen was thinking about cutting her hair, but a "friend" told In Touch, "He talked her out of it. He told her to just trim it and go blonder."
Of course, Brad and Jen also talked about her becoming a "mom at last," which is particularly creepy when you recall that they split because they couldn't agree on whether or not to have kids (or so the tabloids claimed at the time). Jen was desperate to get pregnant because she was turned 40 this year, so she tried get every man she came in contact with to be her baby daddy. Apparently she couldn't convince John Mayer or Gerard Butler to spawn with her, because Star reported in April that she had completed paperwork (with Brad's help) to adopt an American baby boy that she would name Nicholas John. Fickle Jen must have changed her mind about little Nick at the last minute, since Star reported in December that she was adopting a Mexican toddler (with Brad's help).
Clearly, the only way for Angie to win Brad back from Jen was to get pregnant with (or perhaps adopt) her 7th child. After all, a man can walk out on six kids, but not seven. Star reported that Angie was two and a half months along on April 15, so we must have missed when she gave birth in late October. We'll have to keep our eyes peeled for the arrival of the other 7th baby she's currently pregnant with and the African and/or Eastern European baby she's adopting.
Sometimes it's just so hard to keep tabs on all the famous uteri, especially when the mags keep forgetting to write the word "someday" and the end of those coverlines about celebs who see babies in their future. Also, let's just make a rule that no female star is allowed to touch her belly and smile coyly ever again.
We got so wrapped up in the goings on in Katie's uterus that we almost forgot about the biggest pregnancy news of the year: White. House. Baby. In this inauguration story, Star claimed that 45-year-old Michelle Obama, who had difficulty conceiving Malia, decided to give in vitro a go because she and Barack had nothing else going on in 2009. If the procedure didn't work, they planned to adopt a learning-disabled child, or perhaps an African-American boy that Barack could "play hoops with." Unless they've cleverly disguised their adopted son in a Portuguese Water Dog costume, this never happened.
Looking back, we've had a lot of fun with the tabloids this year, from stories about Jessica Simpson keeping a framed picture of Tiger Woods in her bedroom, to Suri and Shiloh's 100% Photoshopped playdate. Who knows what the stars will do in 2010, or rather, what adventures the tabloids will concoct? Jennifer Aniston could adopt a brood of Bolivian orphans, Britney could get pregnant with sextuplets, or Michelle Obama could start sexting Brad Pitt. Think about what stories you'd like to see, because, as we've learned from the editors of Star, Us, In Touch, Life & Style, and OK!, the only limit is your imagination.