NORRISTOWN, Pa.—Every day in court, they were there—the other women who said, like Andrea Constand, they were drugged and sexually assaulted by Bill Cosby. Victoria Valentino always wore her button, saying "We stand in truth." Lili Bernard always wore white; on the first day she carried in pink gladiolus. Every day they sat in court, listened, and followed all the rules: No food, no water, no ringing phones, no disturbances. Every day they dealt with reporters looking for quotes and, like Cosby, had cameras shoved in their faces.
Except, unlike Cosby, they did not have publicists flanking them at every step. And, unlike Cosby, they didn't get the added help of a law enforcement escort, who kept cameras at bay every day. Just like the rest of us, as jurors deliberated, they sat in the chilly hallway on uncomfortable court benches and waited.

When the the mistrial became official and the courtroom doors opened, most of the people inside rushed out. There were tweets to send, updates to email, press conferences to give. But these women stayed, and they all eventually made their way over to Constand, who had been there every day the jury deliberated, sitting with her family and the officer who investigated her case, Sgt. Richard Schaffer. With the courtroom almost empty, all the women gathered and took turns hugging each other. They all said something to Constand.
Dolores Troiani spoke, refreshingly informal after a trial with a media narrative dominated by podiums, microphones, and 15-second video clips. Troiani was Constand's lawyer back in 2005 when Constand first publicly said Cosby assaulted her. There were no tears from her or Constand, and Troiani quickly made it clear that they were ready for the next trial, saying: "Can we come back tomorrow?"
Valentino spoke up too. She reminded everyone that there were still victories to celebrate thanks to their work, like when California ended its statute of limitation on rape cases last year. Then Troiani put her arm around Andrea's mother, Gianna, who had by all accounts given such powerful testimony even Cosby's defense lawyer didn't dare assail it in his closing statements.
G/O Media may get a commission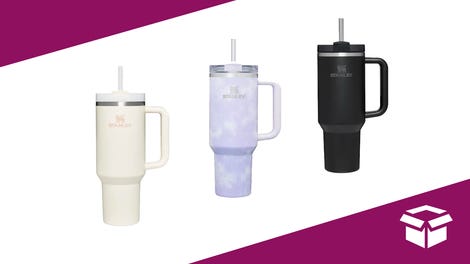 Up to 45% off
Stanley Cup Sale
"The mother we all wish we had," Troiani said.
As they made their way out of the courtroom, Gloria Allred began her press conference outside, with two more women who said Cosby had assaulted them also ready to speak. It was a grey, dreary day. The rain had passed but there was no sun, everything was wet. With the gloomy backdrop, Allred went first, saying "We cannot underestimate the blinding power of celebrity." She then talked about how she hoped in the future the court would allow more "prior bad act witnesses," which in this case are the dozens of women who say Cosby drugged and assaulted them in a similar manner. She was followed by two of those women: Linda Kirkpatrick and Jewel Allison.
Kirkpatrick also mentioned the victory in changing the state of limitations and said into the microphones, "He thought he could bury us. He did not know we were seeds." Allison followed her. She said she had prepared statements but she didn't want to use them. Instead, she said she wanted to speak to the black community. Allison said she felt their pain, and she quoted Dr. Martin Luther King Jr.'s, "We must accept finite disappointment but never lose infinite hope."
"It is time for rape and violence to stop so that the healing can start," Allison said, adding, "Let's walk together as one family."
Before she left, she told the reporters gathered, "God is watching all of us."