NORRISTOWN, Pa.—When the judge announced Thursday that jurors in the Bill Cosby trial were deadlocked, first there was silence. Shock from the women in the courtroom who have said that Cosby also drugged and assaulted them. Quiet pleasure from the Cosby supporters. And eventually flurries of typing and tweeting from reporters. The courthouse steps were silent when I walked out minutes later to get lunch, but it was a tense silence. A phalanx of cameras waited for anyone who came outside, something like a slalom lined with camera lenses shoved in your face. Even walking through it was uncomfortable, dozens of glaring, digital eyes peering into you.
When I went back an hour later, the cameras were scattered everywhere capturing whatever pockets of anger they could grab. The confrontation between Lili Bernard and Cosby supporters was over but the emotions, on a boiling hot day, had spilled over. Cosby supporters were giving interviews. The group of women who said Cosby drugged and assaulted them—several have sat through every day of the trial—gave their own interviews. Everyone was angry. The tense energy finally broke when two drummers appeared saying nothing, circling the courthouse. As happens when there's a visual, especially one with music, all the cameras went to them.
When it was over, almost all of the chaos was gone. But through it all, from the height of the confrontations to the drummers to after everyone had moved on, Jewel Allison stayed on the steps, focusing on one person, a young woman from Philadelphia. Allison has said Cosby drugged her and then forced him to touch his genitals. The woman, Zakia Tuck, 27, of Philadelphia, was holding a sign in support of Cosby, saying "Mr. Cosby is innocent facts!!!" Allison was not deterred.
G/O Media may get a commission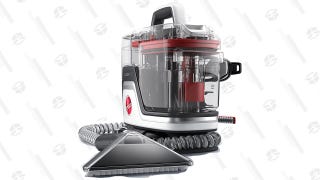 Save $10
Hoover CleanSlate Plus Carpet & Upholstery Cleaner
Reporters came and went, getting their videos, quotes, and tweets. Allison did not budge. She did not let go of Tuck's hand, and Tuck stayed.
"I would not want to be one of those jurors right now," Allison said, "to come up with a just, fair, decision about a crime that is rife with race, sex, and class in America." She talked about the "unfair burden" both she and Tuck carried every day in America as black women. But she also talked about the importance of working to get beyond the way race has been used to divide women.
"There is nothing that separates me from this woman," she said, pointing at me, "except an agenda."
She kept going, telling Tuck she was not letting go and making sure they exchanged numbers. At one point, I sat down to send information about what was going on back to New York, looked up after several minutes, and there were Allison and Tuck, still talking, still holding hands. Alison talked about the importance of building a world where black people are truly equal, saying "black people have got to be allowed to be human."
Near the end, with most of the reporters gone and Allison still going, she asked Tuck what she saw when she saw Cosby. Was Bill Cosby? Dr. Huxtable?
"You see a man, just a man," Allison said. "He's just a human being."
A few minutes after 2 p.m., it ended with Tuck hugging Victoria Valentino, another woman who has been at the trial every day and has publicly said Cosby drugged and assaulted her. Allison did let go of that hand, but I saw them put numbers in their phones and then walk off the courthouse steps tother. Tuck had her "Cosby is innocent" sign rolled up.
A few minutes later, Allison was sitting on the steps next to a man who, hours earlier, had been holding a sign in support of Cosby. She was talking to him too.