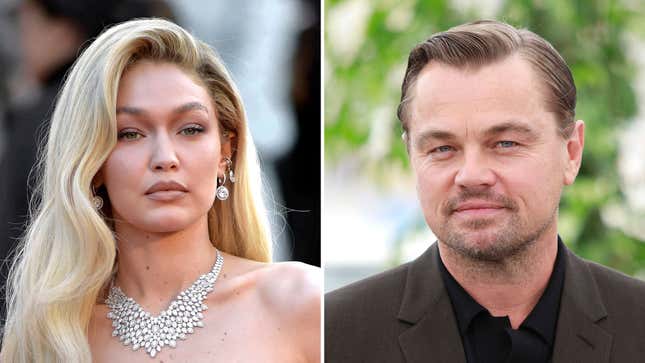 Have you heard that Gigi Hadid and Leonardo DiCaprio were in the Hamptons this weekend? Together? But not really? But standing next to each other giving off a particular vibe, and so probably but not officially dating?
The rumored couple I'll call Gionardo from here on out were first linked romantically during New York Fashion Week in September of last year. And while reports that they had "fizzled out" were everywhere in February, gossip rags are still clinging onto hope that the duo is blazing again rather than accepting what appears to be the difficult-to-stomach truth: Gigi and Leo are both exorbitantly rich and famous people who probably banged once or twice and now hang out in the same crowds.

Conveniently in June, Us Mag informed us Gigi and Leo still have a "no-strings situationship" that's "fluid and open"—which certainly paves the way for everyone to reasonably assume they're still bumpin' uglies, despite any objective evidence to the contrary. On Monday, for instance, Page Six posted an "EXCLUSIVE" that Leo was hanging with Gigi in the Hamptons over the weekend. They were both reportedly at "tech guru" David Rosenberg's annual Bridgehampton party, co-thrown by DiCaprio's buddy "hospitality mogul" Richie Akiva. A "spy" told Page Six that Hadid was in attendance celebrating her friend Leah McCarthy's birthday. "Leo and Gigi were talking to each other," said the spy, before adding there wasn't a lick of PDA. "She seemed thrilled. Everyone thought they were together [as a couple]."
It was "the way they were talking to each other … You could feel the energy," the source said, noting that the two had a "vibe." So essentially, this entire report is based upon vibes. Nevermind that the day immediately prior to the tech guru gathering, Page Six reported that Leo was spotted arriving in the Hamptons, by way of helicopter, with another woman at his side—likely his actual date.
I am just trying to understand why everyone wants these two particular humans to date so badly that we're reading into them just breathing the same air. In March, People ran a story that Gigi and Leo spent "nearly the entire night" together at a pre-Oscars party, while another source noted that "the two were in a group of over a dozen people in the VIP section who were hanging out." In May, romance rumors sparked up yet again because the duo were reportedly seen "smiling inside [Casa Cipriani]" in New York, though a second source, again, noted that the occasion was a 20+ person group dinner, and that the two weren't seated together.

Look, if these two want to be together, they'll be together. But Leo is clearly happy dating 25-year-olds for eternity, and Gigi has already aged out of him by three years. Let's stop wishing this cradle-robbing mess upon her—she's had enough drama in her life.