According to the tabloids, Jada Pinkett Smith and Will Smith—one of Hollywood's most powerful and longest-lasting couples—are divorcing soon. But maybe they're not! This isn't the first time rumors about the end of their marriage were in the headlines, and it probably won't be the last. Will and Jada have never directly responded to the rumors (why would they, really?), and instead focus on the good things; i.e. the sex.
The sex talk appears to have begun in 2008, in the middle of Will's promotional tour for Hancock. At the time, the Smiths had been married just over 10 years, which led to plenty of questions about how they were keeping their marriage fresh. Since then, they haven't really dropped the subject.
Below are some of the sexiest things the Smiths have ever said about their very sexy sex lives.
---
Will, on what keeps their marriage fresh:
"Lots of sex. All the time, every day. Just lots of sex keeps me going good!"
Jada, on the sexy men of Magic Mike XXL reminding her how sexy Will is:
"For the first time in my life, that 'other head' below started talking to me, 'Procreate, procreate, procreate, procreate!' And my top head was like, 'Jada, there is not a Will Smith on this set! You can't procreate with nobody!'"
G/O Media may get a commission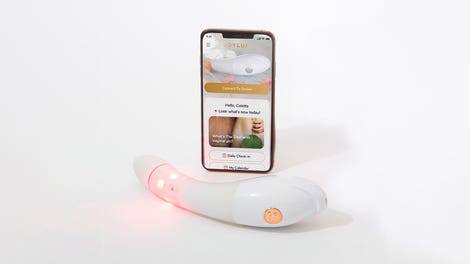 $50 Off
Joylux vFit Gold Device
Jada, on Will seeing both her beauty and the beauty of others:

"Just because a man is attracted to another woman does not mean that he does not love you...And it doesn't mean that he's going to act on it...If your man isn't going to see another woman's beauty, how the heck is he going to see yours?"
Will, on openly discussing the sexiness of others:

"So sometimes we have the discussion: 'Wow, this or that girl is freaking gorgeous.' I'm not going to say anything to my buddies that's any different than what I say to my wife."
Jada, on watching Will's onscreen love scenes:
It's kind of a nice voyeuristic way to see your man, but I am kind of weird in that way.
Jada, on the interesting places where they make love:

"We make love in some interesting places. I feel like you have to keep spontaneity, you have to keep your partner on their toes because once, you know, it starts getting into a routine, it's like - it gets very boring."
Jada, on more interesting places where they make love:
"[Go for] a drive – and then pull over on the side of the road! Think of places outside that are comfortable to have sex. Does he have access to his office? Have a fantasy date. Be his secretary! Be sneaky...Your girlfriend's house at a party. The bathroom! A guest bedroom! Just switch it up. Anything like that can keep it going. Anything it takes to keep the flame alive."
Jada, on the interesting places where they make love causing them to be late to important events:
"When you have three kids, you've got to take your opportunities when they come. In a limo, on the way to the Academy Awards this year, Will started looking at me in this way that drives me wild. We started kissing passionately, and the next thing I knew, well, let's just say we missed the red carpet and I ended up with almost no makeup on."
Jada, on keeping the romance alive by being good friends:
I think the most important thing is learning to be really good friends. Because a romance is a really great component to have but to keep a sound relationship when sometimes that fire is not burning as strong, which is inevitable if you've been with somebody for a long time, you have to have a very deep friendship because usually that's what will rekindle everything.
Will, on "using" his Hancock costume at home:
"I took the suit home and my wife and I use it sometimes. Just around the house. It's great."
Jada, on their crazy, risky sex:
"My husband and I always make time for sex! Always! No matter how busy we are. And if I told you the places! You would not even believe! It's crazy the risks that we take, but that's what keeps it so much fun."
Will, on preparing Jada for lots of sex:

"I've been working a lot the last couple of years. My wife has said we have to take the next five months off. I enjoy my job, I really enjoy working. She might need to be prepared to have lots of sex!"
Jada, on sending sexy pictures of some sort:

"Well even during the day I might send a sexy picture of some sort...just a reminder of what's waiting at home."
Will, on other people who give him a sexy chill:
"I actually get a sexy chill every time I think about Madonna."
---
Contact the author at bobby@jezebel.com.

Image via Getty.