While walking the red carpet for the new movie Focus, longtime couple Will Smith and Jada Pinkett Smith were asked how it feels to watch each other in love scenes with other actors. Twinkle in her eye, Jada replied, "After 20 years… I actually, you know—" "—She a little freaky like that," Will cut in. What can we say? Lady likes to watch.
"Unfortunately, he's right. It's kind of a nice voyeuristic way to see your man, but I am kind of weird in that way," she continued. "That's a whole other conversation."
Will, on the other hand, feels—jokingly—a little overwhelmed with his wife starring in Magic Mike XXL.
"The difference was everybody's naked in Jada's movie. It's just overkill. It's like somebody needs to put some drawers on," he told EXTRA (video at the link). "There's so many famous people in Magic Mike 2. Everywhere I go there's some man there who's been in his drawers with my wife."
HOLLYWOOD: Please let Will Smith continue making movies so that Jada Pinkett Smith gets her fair share of visual foreplay. And please make a single edit of Magic Mike XXL where the men are wearing pants to give Will Smith some peace of mind.
G/O Media may get a commission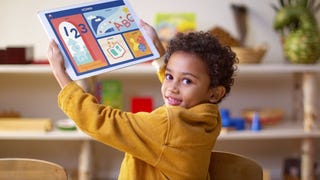 30-Day Free Trial
Homer Learn & Grow Program
[EXTRA]
---
Good news: We finally have Kid Rock's opinion on Beyoncé. "Beyoncé, to me, doesn't have a fucking 'Purple Rain,' but she's the biggest thing on Earth," he told Rolling Stone. "How can you be that big without at least one 'Sweet Home Alabama' or 'Old Time Rock & Roll'?"
Sure, "Countdown" is no "Bawitdaba," but they can't ALL be Kid Rock-level iconic hits.
He adds, "People are like, 'Beyoncé's hot. Got a nice fucking ass.' I'm like, 'Cool, I like skinny white chicks with big tits.' Doesn't really fucking do much for me."
I bet Beyoncé is heartbroken. [Rolling Stone]
---
Selena Gomez reached out to a suicidal fan in the comments of her Instagram, writing, "Your purpose is to share, help, encourage. Remember that. Please. Before you think of taking your life, think of all the [lives] you could save. I love you. More importantly there is a God that will love more than I ever could."
She then screen-grabbed the comment and shared the photo with the caption "I know I meant 'lives.' I don't care about grammar. I'm sorry I had to share. Every life is worth it." [US Weekly]
---
Photos via Getty.